2020's News is Already Pressing.
Back to work after a bleak start to the new year.
I'm Scott Nover. Welcome back to Pressing, a newsletter about press freedom. If you haven't yet subscribed, you can do so here and receive this letter in your inbox every Tuesday morning as well as special features for paid subscribers.
This is the 28th issue of Pressing and it's great to have you with me. Please send me feedback, thoughts, suggestions, and tips at sgnover@gmail.com.
---
If We Inch Toward War…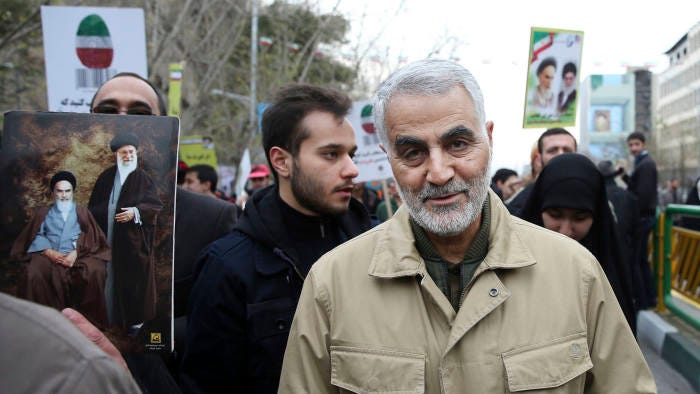 While I was enjoying time off with family and friends, the world became decidedly less safe. After the New Year, President Donald Trump ordered the assassination of Iranian general Qasem Soleimani. While Soleimani was no doubt a dangerous and evil actor, Trump's decision to assassinate him has already escalated tensions between Iran and the United States.
"Trump and his administration have insisted that they killed Soleimani to avert an 'imminent' attack, but they've yet to provide specific evidence of this to the public, the press, or, it would seem, Congress," wrote Columbia Journalism Review's Jon Allsop. "Footage of Trump saying [he acted 'to stop a war'] rolled at the top of TV news shows, without anchors adding adequate context. Stenography is never good journalism. When it comes to war, it's unforgivable, and that's before we get started on this administration."
The job of journalists — especially at crucial moments like this — is to pry, to ask questions and demand answers, to point out holes in what the government and other powerful actors say. But it's also our jobs to be human, to value humanity and tell human stories; not be cold, or jingoistic, or gush over "beautiful pictures of fearsome armaments." It's not our job to root for or romanticize war. This very human essay about watching Soleimani's death unfurl on Twitter, written by Bridget Read in New York, spoke to me: "If cable TV in 2003 made Iraq look like a place where no one lived, Twitter made it seem like it wasn't even really there."
If we inch toward war, continue to demand transparency from our government. The job of journalists is not to cheer military action, it's not to make bold statements to sound like an expert, and it's not to assure the public we're headed for war or stable in our peace. The job of journalists is to offer context, detail, and truth. It's the job of journalists to demand transparency and accountability. I'd argue it's the job of journalists to help us — if it's not already futile — retain our collective humanity.
---
Subscribe to the paid version of Pressing for member-exclusive emails: essays, reading lists, breaking news analyses, and more. I produce this newsletter multiple times a week on my own time — and I'm a full-time freelancer — so if you'd like to support me and my journalism in general, this is a great way to do it.
---
Headlines From Around the World
---
Where Did All the Saudi Bots Go?
If you missed my latest essay for Pressing, it's an interesting one! I wrote about Twitter's effort to purge state-controlled bots and my own run-in with suspicious accounts after I reported on the fallout from Jamal Khashoggi's assassination last year.
You can read it here by subscribing to the paid version of Pressing… or check it out on Medium, where I republished it.
---
Trouble in the United States
---
A Top 10 List You Didn't Expect
The website iMediaEthics picked the 10 major media lawsuits of 2019. Because everyone loves a list, here they are:
Sarah Palin's lawsuit against the The New York Times was reinstated

Johnny Depp sued Amber Heard

Cindy Yang sued The Miami Herald

Geoffrey Rush won big in a defamation suit against The Daily Telegraph

Rep. Devin Nunes sued Esquire, CNN, and Twitter, among others

The BBC settled with former Ukranian president Petro Poroshenko

Somerville, Massachusetts Mayor Joe Curtatone sued Barstool Sports for recording him without consent

Mississippi man Derrick Evans sued HuffPost after Brett Kavanaugh reporting

Covington Catholic student Nicholas Sandmann sued the Washington Post, CNN, and NBC for defamation

Radio host Dean Obeidallah sued the Neo-Nazi website The Daily Stormer and won $4.1 million 
Here's the full list and write-up with links if you want to learn more.
---
The Final Word
It's been a dark newsletter, so here's something to laugh at:
"A reporter won the lottery and quit her job, live on air — only to find the payout was about $5,500."
Oops.
---
Thanks for reading Pressing today and always. Like what you read and want to support me? Consider a paid membership here. Otherwise, I'll see you on Tuesday! Send tips and feedback to sgnover@gmail.com.