A "Verdict" for Jamal
A sham decision, a world of failure
I'm Scott Nover. Welcome back to Pressing, a newsletter about press freedom. If you haven't yet subscribed, you can do so here and receive this letter in your inbox every Tuesday morning.
This is the 52nd issue of Pressing and it's great to have you with me. Please send me feedback, thoughts, suggestions, and tips at sgnover@gmail.com.
---
A "Verdict" for Jamal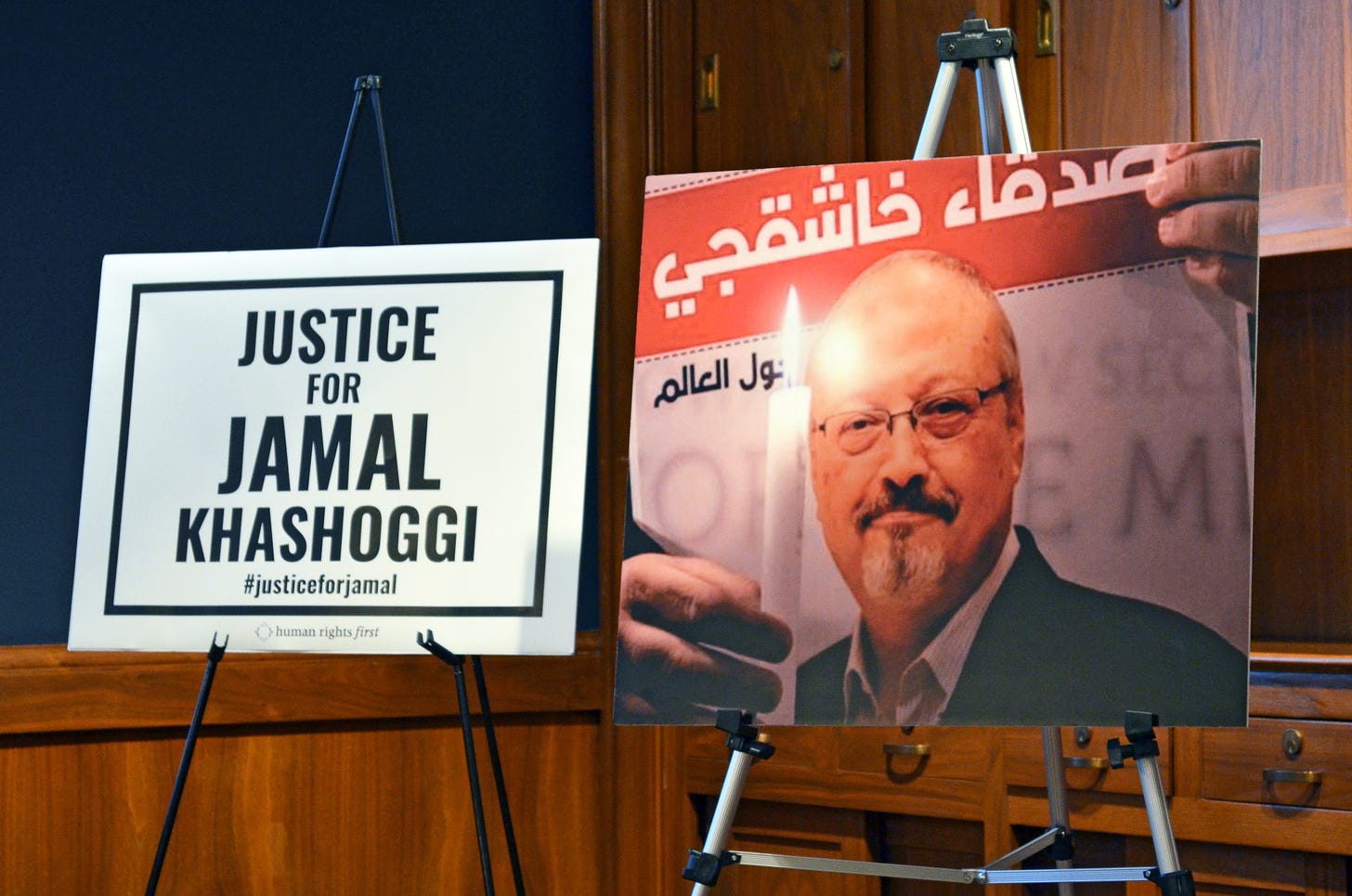 Saudi Arabia has not been held responsible for the assassination of Jamal Khashoggi, the Saudi-born Washington Post journalist who was murdered in 2018. In exile, Jamal was an American resident at the time of his death.
Last week, a Saudi prosecutor announced that eight individuals had been sentenced to prison in a "final" ruling, but neither the prosecutor nor the state-run news outlet reported the identities of the individuals. The ruling was transparently shambolic. "These verdicts carry no legal or moral legitimacy," said Agnès Callamard, the UN Special Rapporteur on Extra-Judicial Executions. "They came at the end of a process which was neither fair, nor just, or transparent."
The CIA previously concluded that Khashoggi's murder, carried out by a hit squad in the Saudi Embassy in Istanbul, Turkey, was directly ordered by Saudi Crown Prince Mohammed bin Salman. 15 men suffocated him and cut up his body with a bone saw.
In response, President Donald Trump has done nothing. While trump has leaned into a trade war with China, he has expressed an unabashed affinity for strongmen like Russia's Vladimir Putin, the Philippines' Rodrigo Duterte and Turkey's Recep Tayyip Erdogan.
MbS is no exception. Trump has ignored the CIA report and brazenly said he would not stop U.S. arms sales to Saudi Arabia because of the assassination—of an American resident.
And this week, somehow, it got worse.
Bob Woodward's new book "Rage" revealed that Trump bragged about "saving" bin Salman's "ass." Here's Business Insider' with the first-look:
"The people at the Post are upset about the Khashoggi killing," Woodward told Trump on January 22, his book says. "That is one of the most gruesome things. You yourself have said."

"Yeah, but Iran is killing 36 people a day, so —" Trump began, before Woodward redirected the conversation and continued to press Trump about MBS's role in ordering Khashoggi's killing.

"I saved his ass," Trump had said amid the US outcry following Khashoggi's murder, the book says. "I was able to get Congress to leave him alone. I was able to get them to stop."

The White House did not offer a comment when contacted by Insider.

When a reporter pressed Trump on Thursday about what the president meant when he said he'd "saved" the Saudi leader's "ass," Trump replied: "You'll have to figure that out yourself."
You'll have to admit, Trump is remarkably consistent. Everything he does and says is transactional. MbS murdered one of his fiercest critics, one of his citizens, a journalist, and an American resident. And Trump saved his ass.
---
I never knew Jamal personally, but I wrote about him soon after his death for The Atlantic.
"Did you hear about this Saudi guy? The journalist that's been missing," my editor asked me, perhaps a bit crudely. I admittedly hadn't heard about the Saudi guy. Maybe a murmur or two.
I quickly learned.
My assignment was simple, and pretty old-school for national magazine. Talk to his friends. Figure out what his life was like. Jamal's story sounded incredibly distant, but he wasn't distant at all. He lived in Northern Virginia. I lived in Washington, D.C. We were separated by a few miles.
Jamal found community in the D.C. area. He found a gracious editor and a publication excited about printing his work. He found colleagues to debate, younger people to mentor, and friends who invited him over to dinner and treated him like family.
I don't remember every day on the job, but I remember this one clearly. It was a dreary day, one of those where it's dark as night throughout the afternoon, and I had interrupted my reporting to get a cavity filled. Back in my 14th St. apartment, I spent the afternoon talking to sources while half of my face was immobilized by novocaine.
The sensation of crying while numb is a uniquely strange one, but I know what it feels like because of that day. Between calls, I broke down. I pushed back uncharacteristically on edit's later that night because I cared so much about the story. I really felt like I knew Jamal even though I never met him.
I want to leave you with two motifs from my story—two things that I don't think MbS or Trump ever cared to understand or appreciate.
First, Jamal didn't hate MbS. "I don't recall he ever said anything mean about a person—even MbS. He never uttered a nasty word about him," Mike Franc, a friend and research fellow at the Hoover Institution, told me. "He was critical in a very clinical sense and in a sad way. You know, he was sad for the direction this is taking his country that he loves, and there were no gratuitous moments where he would just utter a bunch of expletives about a situation when he easily could have."
"My impression was that Jamal remained a Saudi patriot to the end, and that any sense of freedom he felt at living in Washington and being able to express himself was tempered by a sense of concern at the path that he saw Saudi Arabia's new leadership going down," Kristian Coates Ulrichsen, a friend and fellow at Rice University told me. "Jamal spoke out about his country out of a sense of civic and patriotic duty and not because he wanted to see the crown prince fail; rather, he felt the crown prince and those around him were making mistakes, and was hoping that they would be able to learn from them."
The second thing is that Jamal seemed incredibly normal. He dined at Le Pain Quotidien in Tysons Corner, he went to dinner parties, he missed his kids, he loved and lost and loved again.
In Istanbul, Jamal was getting a document he needed to marry his Turkish fiancée.
Jamal may have been born in a foreign land, but he was just like me and you. And he was murdered. And we did nothing. And we could've done something.
---
Hey there! Do you love Pressing and want to support it? If you are able and interested, please consider a donation via a paid subscription here! (Disclaimer: I have not been able to produce paid-only posts in a while, but hope to resume before long)
---
There's a new Alex Gibney and Richard Rowley documentary coming to Showtime on Oct. 2 about Jamal called "Kingdom of Silence." I know I'll be watching it:
---
NATIONAL
GLOBAL
TECH
---
Around Press Freedom
"The U.S. Press Freedom Accountability Project, funded by CPJ, will provide grants between $2,000 and $5,000 for newsrooms reporting on threats to journalists in the U.S. during the demonstrations, with a priority to pieces that can be published in one to three months." Read more here.
---
Jobs in Press Freedom
---
Thanks for reading Pressing today and always. Like what you read and want to support me? Consider donating via a paid subscription here. I'll see you next Tuesday! Send tips and feedback to sgnover@gmail.com.