A Year Without Jamal Khashoggi
And a Whistleblower Complaint has Washington on Edge.
I'm Scott Nover. Welcome back to Pressing, a newsletter about press freedom. If you haven't yet subscribed, you can do so here and receive this letter in your inbox every Tuesday morning.
This is the 14th issue of Pressing and we've got a lot of news from the U.S. and around the world. Please keep the feedback coming and send thoughts, suggestions, and tips my way at sgnover@gmail.com.
Whistleblower Complaint has Washington on Edge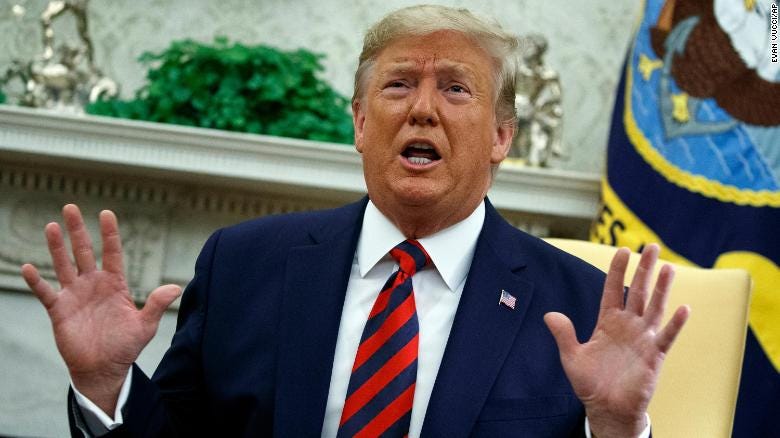 Since The Washington Post reported on a whistleblower complaint filed by an intelligence community (IC) official concerning multiple phone calls between President Donald Trump and Ukrainian President Volodymyr Zelensky, Washington has been on edge. Acting Director of National Intelligence Joseph Maguire has refused to share the contents of the phone calls with congressional intelligence committees, even in the face of a subpoena, potentially breaking the law.
While you may be familiar with whistleblowers in general, the complaint has been processed through official channels—though news of its existence and contents has since leaked. The whistleblower is appearing to follow the provisions set forth in the 1998 Intelligence Community Whistleblower Protection Act, which allows a concerned IC employee to report what they see as internal misconduct while a.) keeping the information classified and b.) protecting themselves from retaliation like firing or prosecution.
Washington Post reporter Deanna Paul has a helpful guide to whistleblower protections in the IC, that I highly recommend for those who are shaky on the exact parameters of how these complaints work and what protections are afforded to whistleblowers that follow official guidelines.
---
If you're not already subscribed to Pressing, click here to receive it weekly:
---
News Across America
Maria Ressa, CEO of The Rappler—who was arrested for "cyber libel" in the Philippines and is out on bail while her case in pending—will be interviewed by Matt Thompson at The Atlantic Festival on Thursday morning in Washington, D.C. She recently spoke at an L.A. Press Freedom Week event where she decried social media's role in "eroding democracy."

The First Amendment attorney Shannon Jankowski was named the inaugural E.W. Scripps Fellow for Press Freedom by Scripps and the Reporters Committee for Freedom of the Press. The fellowship is a two-year program where Jankowski will focus on "supporting local enterprise and investigative journalism, including bolstering access to public records and encouraging greater government transparency."

From the U.S. Press Freedom Tracker: While typical asylum hearings are open to the media and the public, hearings under the new Trump administration Migrant Protection Protocols ("Remain in Mexico" policy) denied access to reporters when they began on Sept. 11. The hearings are being held in tents. U.S. Customs and Border Patrol said that access is limited because the tents are within their "secure port of entry property."

According to CNN's Reliable Sources newsletter, BuzzFeed News reporter Hamed Aleaziz was disinvited from Department of Homeland Security border tour with Acting Secretary Kevin McAleenan. No reason was given for the rescinded invitation.
---
Army Soldier Arrested for Plotting to Bomb News Network; Coast Guard Lt. Faces Gun Charges in Separate Plot
The FBI has arrested U.S. Army solider Jarrett William Smith for providing an FBI informant instructions on how to make bombs. He allegedly plotted attacks on U.S. presidential candidate Beto O'Rourke, members of "Antifa," and a "major news network" otherwise unidentified.n (CNN has two sources saying it is, indeed, their network that was targeted.) Smith has been charged with "distributing information relating to weapons of mass destruction."
Smith has admitted to discussing bomb-making with others in Facebook chats. His conversations with the FBI informant were on the encrypted messaging app Telegram. The BBC reports that he could face up to 20 years in prison.
In a similar case, a judge refused to drop charges for unauthorized possession of firearm silencers for the U.S. Coast Guard lieutenant accused of plotting to kill prominent Democrats and TV journalists, the Associated Press reported. The judge ruled that Christopher Hasson's Second Amendment rights do not include stockpiling silencers. He is also charged with "possession of firearm by unlawful user or addict of a controlled substance, and illegal possession of tramadol, an opioid painkiller." His case is still pending in the U.S. District Court for the District of Maryland.
Powerful Op-ed From NYT Publisher
New York Times publisher A.G. Sulzberger penned an op-ed, originally delivered as a talk at Brown University, about press freedom around the world and the Trump administration's role. He told a story, which was not previously made public, about a call he received from an unnamed Egyptian official that Declan Walsh, the Times' Cairo bureau chief, was about to be arrested. The official called the Times directly, sure that the Egyptian government wouldn't even notify the Trump administration because the Egyptians knew Trump would do nothing to help. Guess what Sulzberger did? "Unable to count on our own government to prevent the arrest or help free Declan if he were imprisoned, we turned to his native country, Ireland, for help," he said. "Within an hour, Irish diplomats traveled to his house and safely escorted him to the airport before Egyptian forces could detain him."
When Times reporter David Kirkpatrick was later arrested in Egypt and deported, an unnamed official at the U.S. Embassy in Cairo told Sulzberger, "What did you expect would happen to him? His reporting made the government look bad."
The essay spotlights a troubling anti-press attitude that's permeated the Trump administration as well as our relationships around the world. "President Trump has done more than undermine his own citizens' faith in the news organizations attempting to hold him accountable," he wrote. "He has effectively given foreign leaders permission to do the same with their countries' journalists, and even given them the vocabulary with which to do it."
Headlines Around the World
From the Committee to Protect Journalists: Uzbek blogger Nodirbek Hojimatov sentenced to 10 days in prison for Facebook post.

The South China Morning Post's editorial board says that attacks on journalists covering the ongoing Hong Kong protests are a top press freedom concern. They expressed concern over scores of reporters, including their own, who have been doxxed, used here to mean that personal information about them has been spread in an attempt to harass and intimidate them.
One Year without Jamal Khashoggi
It's hard to believe it's been one year since Saudi journalist—and Virginia resident—Jamal Khashoggi was brutally murdered in the Saudi embassy in Istanbul, Turkey. But maybe it's because nothing has really been done… not by the Saudi government to admit their sins, and not by the American government to place pressure on an abusive ally. The UN's special rapporteur on extrajudicial, summary or arbitrary executions concluded in a damning report that Saudi officials including Crown Prince Mohammed bin Salman may be connected to the killing. But, no one has been brought to justice or held accountable.
On Oct. 2, it'll be one year. Press advocacy groups — The Committee to Protect Journalists, Reporters Without Borders, PEN America, James W. Foley Legacy Foundation, Amnesty International, and the National Press Club — are hosting a candlelight vigil outside the Saudi Embassy in Washington, D.C. on Oct. 2 at 6:30 p.m. You can find more information at the Facebook event online.
---
That's all for this week. Thanks for reading and I'll see you next Tuesday! Send tips and feedback to sgnover@gmail.com.