AP Reporter Kicked Out of South Sudan
And more press freedom news in this week's Pressing.
I'm Scott Nover. Welcome back to Pressing, a newsletter about press freedom. If you haven't yet subscribed, you can do so here and receive this letter in your inbox every Tuesday morning.
This is the 18th issue of Pressing and I'm very happy to have you on board. Please keep the feedback coming and send thoughts, suggestions, and tips my way at sgnover@gmail.com.
South Sudan kicks out AP Correspondent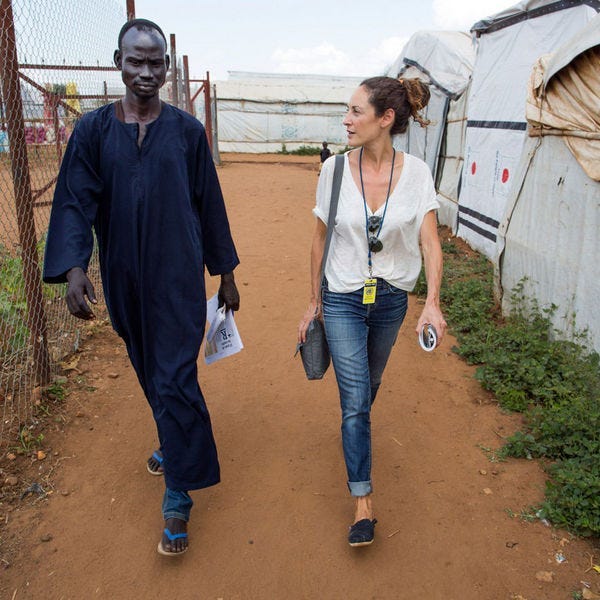 Sam Mednick, South Sudan correspondent for the Associated Press, was kicked out of the troubled nation last week following a story she wrote for the wire service.
"After almost three years of reporting from South Sudan, my press pass was revoked (for 6 months) because I was told that I 'concocted' misinformation intended to create panic and fear of the unknown," Mednick tweeted in a statement. "This is extremely disheartening and yet another troubling sign for #PressFreedom in South Sudan. The timing, two weeks before the warring sides are meant to unite, is uncanny."
South Sudan has been in the throes of civil war since late 2013, but as Mednick alludes to in her statement, leaders of the government and the opposition are meeting in order to try and form a unity government before a deadline next month.
"I'm [honored] to have been able to report from parts of the country that don't get a lot of international coverage," she added. "And I'm grateful to the South Sudanese people I've met, who have inspired me more than they realize."
According to AP, the government took issue with Mednick's recent story "that said tensions were rising in the capital" ahead of these meetings.
"We are proud of the work that Sam has done to inform the world about the challenges faced by South Sudan," said AP news director Anna Johnson, who oversees Europe and Africa coverage. "We hope that authorities will reconsider their action in order to allow her to return and continue this important journalism."
Mednick, who was born in Canada, has continued to report on South Sudan from outside the country, filing yesterday from Nairobi, Kenya.
---
Are you enjoying Pressing and want to subscribe? You can do so here:
---
Some Quick Housekeeping
I am so thrilled that each of you have elected to receive this newsletter in your inbox every week! It means a lot to me that people care about this important topic and want to read my writing each week. If you like what you've read and want more, you can subscribe to the paid version of PRESSING, where you'll receive *even more content* from me: think breaking news analysis, Friday bulletins, and maybe some original interviews exclusively for subscribers. Otherwise, enjoy the free version! Any contributions go a long way to supporting my journalism and my ability to keep producing this newsletter.
---
Required Reading
This week's required reading is this EU Observer piece, titled, "'A game of roulette' - life as a journalist now in Turkey," by Tom Gibson.
"When journalists are arrested, the judicial system is unpredictable," Gibson writes in his first-person piece. "Journalists described the risk of imprisonment like a revolving door - or a game of roulette. Anyone can be jailed at any time."
---
The Latest in Media Law—or, Who's Getting Sued This Time?
---
Human Scum? Really?
I'll end this issue with a sad reality: the president of the United States, Donald Trump, thinks journalists are "human scum." And his press secretary, Stephanie Grisham, agrees.
"The people who are against him, and who have been against him, and have been working against him since the day they took office are just that," she told The Washington Post's Paul Farhi.
Ari Fleischer, press secretary under George W. Bush, took issue with the wording (though he blamed Trump, not Grisham).
"My issue here is with the president," he told Farhi. "I didn't like his use of the phrase 'human scum,' just as I didn't like the use of the word Nazi that some of his opponents have used against him. I wish people in public life would stop seeking to delegitimize their political opponents."
---
That's all for this week. My fantasy football team is getting worse by the week and the weather is getting colder, so please send warm thoughts and winning vibes my way.
Thanks for reading Pressing today and always. I'll see you next Tuesday! Send tips and feedback to sgnover@gmail.com.