Belarus vs. The People
Europe's "last dictator" cracks down on the free press and open internet.
I'm Scott Nover. Welcome back to Pressing, a newsletter about press freedom. If you haven't yet subscribed, you can do so here and receive this letter in your inbox every Tuesday morning.
This is the 51st issue of Pressing and it's great to have you with me. Please send me feedback, thoughts, suggestions, and tips at sgnover@gmail.com.
---
Belarus Fights for Democracy. Its Government Restricts Communication.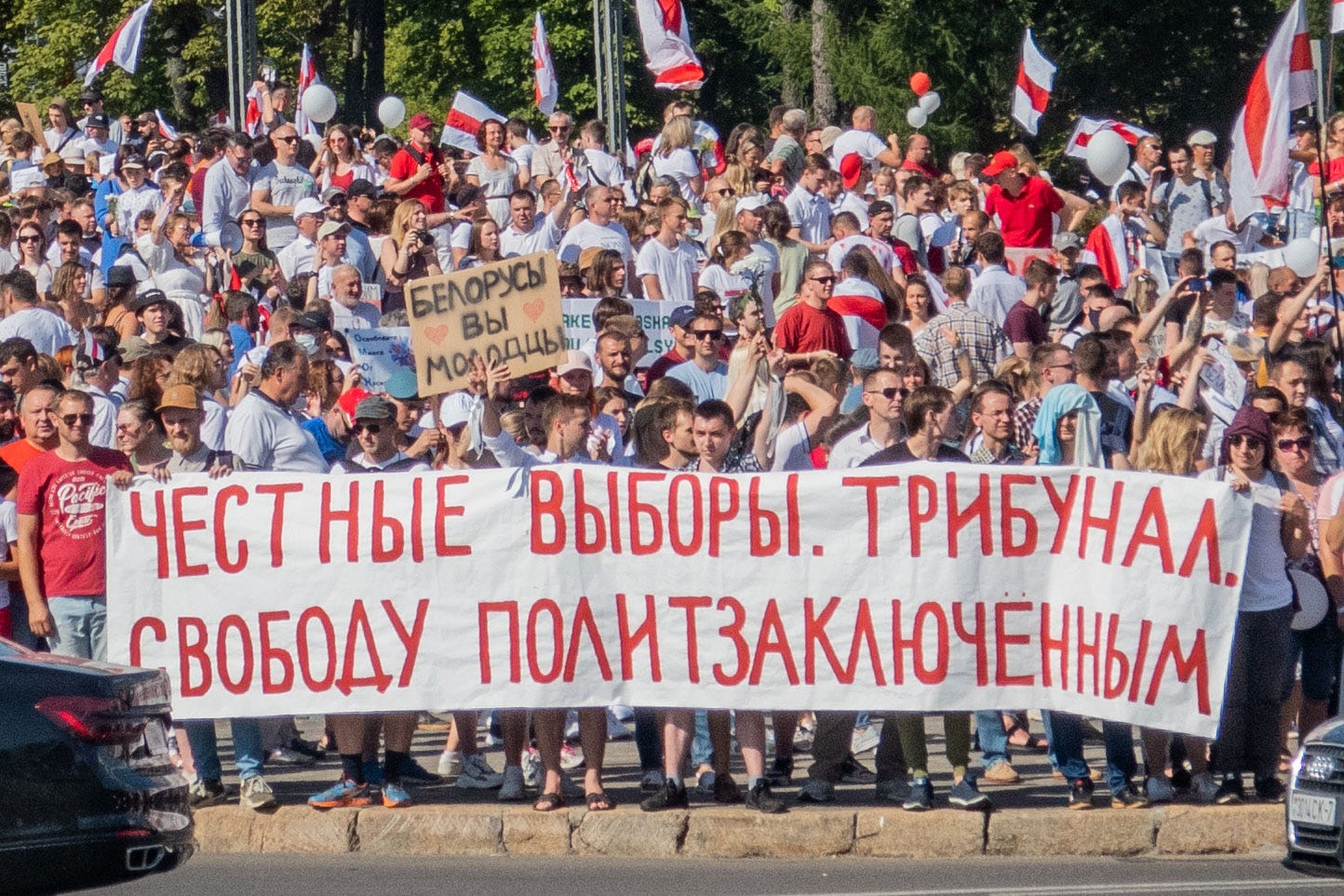 The eastern European country of Belarus had seen pro-democracy protests for months leading up to the Aug. 9 presidential election. But when longstanding president Alexander Lukashenko, who has served as president since 1994 and has been called Europe's "last dictator," claimed he received 80% of the vote, the country erupted with hundreds of thousands taking to the streets.
Presidential challenger Sviatlana Tsikhanouskaya, claimed the reported election results were false, that she actually received between 60-70% of the vote. She fled to Lithuania, fearing for her life.
When authoritarian leaders want to solidify their power, they often try to shut down opposition voices, the independent press and, in modern times, the internet.
On Aug. 22, the Belarusian Association of Journalists reported that the government had shut down 50 news websites that had demanded Lukashenko resign. Among those blocked were Radio Liberty, a U.S. government-funded news outlet related to Voice of America.
More than 50 journalists in the country have been beaten and detained and, on Aug. 30, the government yanked more than 20 Belarusian journalists' credentials. Two Moscow-based Associated Press reporters, covering the protests in Belarus, were even deported back to Russia. Statements from affected news outlets rang out in the name of press freedom:
"We condemn in the strongest possible terms this stifling of independent journalism" (BBC)
"The Associated Press decries in the strongest terms this blatant attack on press freedom in Belarus. AP calls on the Belarusian government to reinstate the credentials of independent journalists and allow them to continue reporting the facts of what is happening in Belarus to the world" (AP)
In addition to individual news sites being blocked, Belarus has taken even more dramatic steps online: There have been widespread internet and cellular outages in the country leading many to suspect the government is responsible. Even many virtual private networks (VPNs), used to mimic internet providers from other locations (e.g. outside of Belarus), have been blocked at times. And even more worrying: Bloomberg reports that Belarus used technology from a U.S. firm—Sandvine Inc., which makes equipment used to "monitor and filter network traffic"—to thwart its citizens access to the open Web.
When dictators seize power, they first turn to the means of communication. "All dictatorships, all of them, began like this, by adulterating communication, by putting communications in the hands of people without scruples, of governments without scruples," Pope Francis said in a 2018 homily.
But perhaps this is also how dictators lose power. If Lukashenko is indeed ousted—or if he retains power—look to this moment of panic. Did blocking access of information lead to his downfall, or was it a pitiful last grasp at control before his 26-year reign finally ended.
The news and images of Belarus—a Belarus in crisis—are still seeping out thanks to the hundreds of thousands on the ground and journalists doing the dangerous job of documenting the protests.
I'll leave you with a tweet and a photo. Here's the tweet:
And here's the photo:
Those say more than I ever could.
---
Hey there! Do you love Pressing and want to support it? If you are able and interested, please consider a donation via a paid subscription here! (Disclaimer: I have not been able to produce paid-only posts in a while, but hope to resume before long)
---
NATIONAL
---
Some personal news… Last year, in the throes of freelancing, I had the great opportunity to contribute some commissioned research for CNN anchor Brian Stelter's book 'Hoax,' which just came out last week. It's about the unique relationship between Fox News and the Trump administration.
I just got it in the mail and plan to dig in this week! If you're interested, you can order the book (I have absolutely no stake in this) from BuyHoax.com and let me know what you think!
Last year, I had the stellar opportunity to work with CNN's
@brianstelter
, providing some research for his new book 'Hoax.' If you're interested, it's about the relationship between Fox News and the Trump White House. You can order it at BuyHoax.com.
---
GLOBAL
---
TECH
---
In the Press Freedom World…
---
A Quote To End On
Thanks for reading Pressing today and always. Like what you read and want to support me? Consider donating via a paid subscription here. I'll see you next Tuesday! Send tips and feedback to sgnover@gmail.com.