Bring Austin Tice Home
A new report says the Trump administration is trying.
I'm Scott Nover. Welcome back to Pressing, a newsletter about press freedom. If you haven't yet subscribed, you can do so here and receive this letter in your inbox every Tuesday morning.
This is the 56th issue of Pressing and it's great to have you with me. Please send me feedback, thoughts, suggestions, and tips at sgnover@gmail.com.
---
Bring Austin Tice Home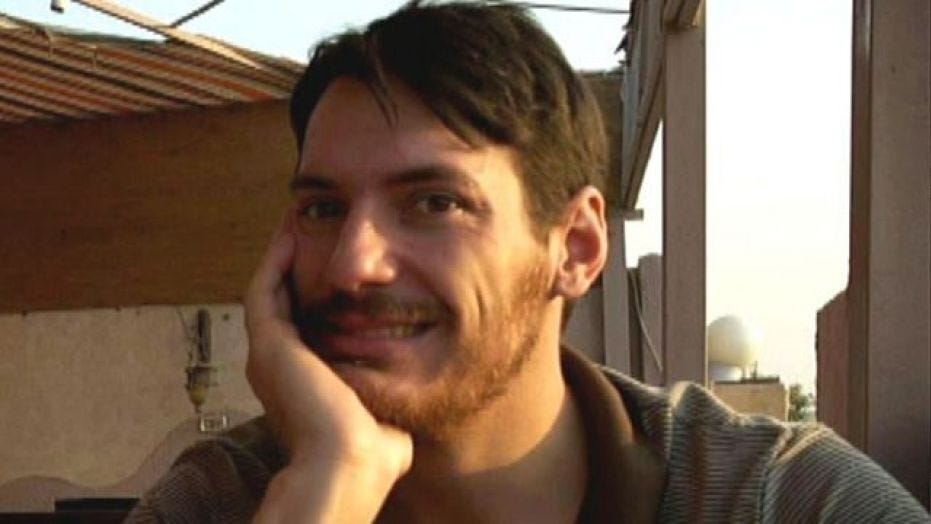 Lawrence Wright's "Five Hostages" is seared into my brain. I was a sophomore in college at George Washington University, taking a shuttle from one class to another across town, but lost myself in the story.
At NPR, they call this a "driveway moment." For public radio broadcasters, it's a yardstick for success when a listener parks the car at their destination but stays in their vehicle to listen to the remainder of the story, almost losing track of where they were going or need to be. Everything else is on hold. The same thing happened to me, except I almost missed my stop, as I was so engrossed in the story.
As the headline indicates, Wright's story concerns five hostages—James Foley, Theo Padnos, Steven Sotloff, Peter Kassig and Kayla Mueller—and the effort by David Bradley, the owner of The Atlantic, and a small team of his staff and associates, to unite the hostages' families and bring them home.
The New Yorker: Five Hostages (Lawrence Wright)
It's a story I read before I knew I wanted to be a journalist, before I knew what media reporting was, before I worked at The Atlantic, and before press freedom was something that kept me up at night.
But I was moved by the story of private citizens, and one wealthy benefactor, who worked on their own to bring home five hostages—journalists and activists—when no one else, including the U.S. government, really would.
Wright's story is about the role of the U.S. government and its policies towards hostage negotiation and ransom payment. It's murky territory, as the government doesn't pay ransoms and gives hostages' families and their advocates little information about efforts to free them.
American journalists don't often go missing overseas. When they do, it typically doesn't end well. Foley, Sotloff and Kassig were beheaded by ISIS executioners. Mueller was raped by ISIS leader Abu Bakr al-Baghdadi, forced into "marriage" and possibly executed or killed in an airstrike.
Out of Wright's five hostages, only Padnos survived. The details of his release are still not fully known, though they allegedly didn't involve payment of the €22 million ransom on his head.
Bradley and his team helped negotiate the release.
---
Since 2012, Austin Tice, a freelance journalist, has been missing in Syria. In many ways, he's the poster boy for American press freedom efforts.
Austin's parents, Marc and Debra, and the Trump administration each say he is alive, though they have provided scant details about his whereabouts.
However, a new report in The Wall Street Journal offers some hope that the administration is actively trying to secure Tice's release: Dion Nissenbaum and Jared Malsin report that Kash Patel, a deputy assistant to Trump for counterterrorism, traveled to Damascus earlier this year to try and secure the release of Tice and Majd Kamalmaz, a Syrian-American therapist who disappeared in 2017.
The Wall Street Journal: Top White House Official Went to Syria for Hostage Talks (Dion Nissenbaum and Jared Malsin)
It also says that Trump wrote Syrian leader Bashar al-Assad a letter this spring proposing a dialogue about Tice, and national security advisor Robert O'Brien recently met with Lebanon's security chief, a key mediator with Syria, to discuss the situation. However, the article says that despite Trump's interest, "talks with the Assad regime haven't gotten very far."
President Trump's interest in Austin Tice's case is welcome. While I have written very critically of the president's rhetoric toward journalists, his general disregard for the free press, his blind eye toward Jamal Khashoggi's killers in the Saudi government, and much more that he says and does that I consider dangerous, I am unabashedly rooting for Trump's success in bringing Austin Tice home.
Rereading Wright's piece, which takes place at the height of ISIS's power, I am also left questioning if the Obama administration did all it could to bring its citizens, and its journalists, home.
As we near an election, I pray that freeing Austin Tice remains a priority for Trump or Vice President Joe Biden, whoever wins in November.
Journalists are bruised and exhausted at home in the United States and there's a lot we need to do to heal. But beyond that, we, as a reporting corps, will never be full until Austin comes home and is out of harm's way.
MORE ON THIS:
---
If you would like to donate to keep Pressing going, you may do so through a "paid subscription" below. Pressing is a free newsletter, but any contributions allow me to keep producing this newsletter for everyone each week.
---
In the Headlines
---
Per the U.S. Press Freedom Tracker… A federal judge ordered Fast Company senior news editor Marcus Baram to release a source's identity pertaining to a 2017 article about tech entrepreneur Shervin Pishevar's arrest.
---
Enjoy what you're reading? You can share it here!
---
The Hugh M. Hefner First Amendment Awards were awarded last night, judged by First Amendment lawyer Ted Boutros and Columbia Journalism Review editor Kyle Pope and presented by HBO host Bill Maher.
The honorees include CNN correspondent Omar Jimenez, who was arrested live on-air while covering the George Floyd protests in Minneapolis, Minn.; David E. McCraw, deputy general counsel at The New York Times; Christina Clusiau and Shaul Schwarz, documentary filmmakers whose film "Immigration Nation" the U.S. government tried to censor; University of Kentucky student Michael Frazier whose activism led to the Kentucky's Campus Free Speech Protection Act; Andrea Dennis and Erik Nielson for the book Rap on Trial, which looked at how rap lyrics have been used as criminal evidence to convict young men of color; and Ira Glasser, the former director of the American Civil Liberties Union.
---
Vice News and Retro Report have a new hour-long film about Donald Trump's toxic relationship with the press called "Enemies of the People" which is available for free on YouTube.
---
Thanks for reading Pressing today and always. Like what you read and want to support me? Consider donating via a paid subscription here. I'll see you next Tuesday! Send tips and feedback to sgnover@gmail.com.