Calamity in the Capitol
Restrictions on reporters, the White House briefing, the National Archives and more.
I'm Scott Nover. Welcome back to Pressing, a newsletter about press freedom. If you haven't yet subscribed, you can do so here and receive this letter in your inbox every Tuesday morning as well as special features for paid subscribers.
This is the 30th issue of Pressing and it's great to have you with me. Please send me feedback, thoughts, suggestions, and tips at sgnover@gmail.com.
---
Programming Note: I'll be in New York today, chatting about Pressing with some of the fine people at the Committee to Protect Journalists. They have a great weekly newsletter called "The Torch," which you should subscribe to here!
---
Calamity in the Capitol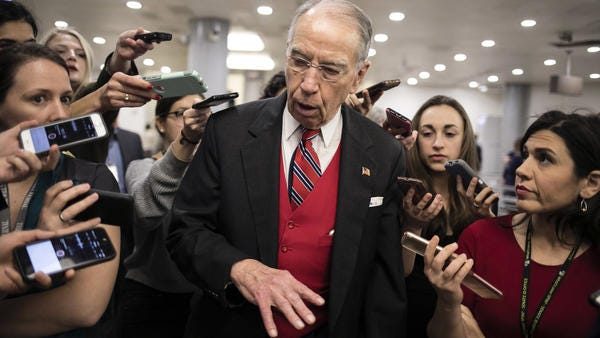 "News coverage of President Trump's impeachment trial in the U.S. Senate began last week with a Republican senator calling a CNN reporter "a liberal hack" in the halls of Congress and laughing about it later that night during a Fox News interview," Michael Grynbaum wrote for The New York Times. "Things haven't improved much since."
The incident in which Sen. Martha McSally (R-Ariz.) called CNN reporter Manu Raju "a liberal hack" was the tip of the iceberg. Inside the U.S. Capitol, structural barriers were propped up to limit the movement of journalists around the Capitol during President Donald Trump's impeachment trial. Even C-SPAN is pissed off, if you can believe that.
Journalists, photographers, videographers, news organizations, press freedom advocacy groups, and even some members of Congress are upset by the new restrictions, which hinder the ability of reporters to do their jobs and cover the third ever presidential impeachment trial. I wrote about it for my Friday essay available to paid Pressing subscribers, which you can read here.
---
Remember the White House Press Briefing?
I sure do.
For The Washington Post Magazine, I wrote about the death of the press briefing under President Trump. The Democratic candidates have promised to bring it back if they win, but is there any point doing so under the Trump administration? Either way, it's unlikely to happen. Here's my dispatch, which was in the magazine this weekend.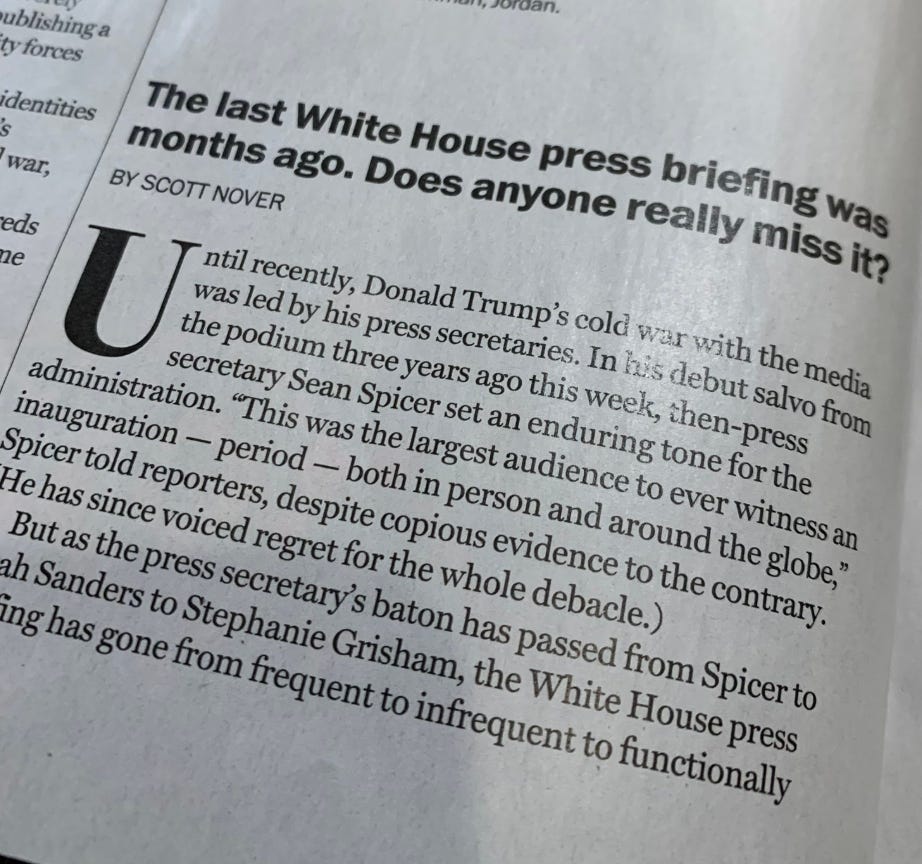 ---
New: RCFP Expands Legal Support Initiative to Five States
In a new statement this morning, the Reporters Committee for Freedom of the Press announced it is expanding its pro-bono Local Legal Initiative to Colorado, Oklahoma, Oregon, Pennsylvania and Tennessee. Through the initiative, which was announced after RCFP received a $10 million grant from the Knight Foundation last year, the RCFP will employ a lawyer in each of the five states "to help local media defend against legal threats and lawsuits, assist with public records and court access efforts, and provide pre-publication review and other legal services."
According to the release, 30 states, regions and territories applied through an open proposal process. Five were selected in this first round.
"The enthusiasm and responses we received from across the country make clear that there is a significant need for pro bono legal assistance for local journalists nationwide," said Katie Townsend, legal director for the Reporters Committee. "At a time when important local reporting is routinely stymied, we stand ready to help journalists and news organizations overcome the legal roadblocks they too often face."
---
Do you love Pressing and want to support it? Do you want to read a little more every week? If you are able and interested, please consider a paid subscription here!
---
From the Opinion Pages
---
Orwell at the Archives
The other day, Washington Post reporter Joe Heim made a troubling discovery. At the National Archives in Washington, D.C., he found a photo of the Women's March from Jan. 21, 2017. But something in the background was blurry. A sign.
"GOD HATES … "
The third word was blurred. So, he found the original photo.
"GOD HATES TRUMP"
The Archives' original response was pitiful. "As a non-partisan, non-political federal agency, we blurred references to the President's name on some posters, so as not to engage in current political controversy," Archives spokeswoman Miriam Kleiman told the Washington Post. "Our mission is to safeguard and provide access to the nation's most important federal records, and our exhibits are one way in which we connect the American people to those records. Modifying the image was an attempt on our part to keep the focus on the records." But, they could not identify another instance where this has happened.
The Women's March was a spirited moment in Washington, D.C.'s history. I've lived here since 2013 and I've never quite seen anything like it. The streets were flooded with people. Most streets downtown were completely blocked off. The National Mall was so overrun with protesters that the mass spilled into the side streets throughout the city. Everyone had a sign. Everyone had a purpose. I remember walking through it on the sidelines with my camera, a student still.
They blurred images and words about female genitalia too. They said those were inappropriate for students. Critics including the historian Douglas Brinkley weighed in: "There's no reason for the National Archives to ever digitally alter a historic photograph," he said. "If they don't want to use a specific image, then don't use it. But to confuse the public is reprehensible. The head of the Archives has to very quickly fix this damage. A lot of history is messy, and there's zero reason why the Archives can't be upfront about a photo from a women's march."
The Archives has since apologized. But the damage is done.
"It has damaged the faith many Americans, particularly women, may have had in its role as an impartial conservator of the nation's records," wrote Post architecture and art critic Philip Kennicott. "It has unnecessarily squandered something that cannot easily be regained.
The Archives engaged in the kind of Orwellian revisionism from which we don't easily recover. In an era and, in particular, an administration that thinks it can control truth, denigrate reporting as "alternative facts," and belittle independent arbiters of truth and history, there's little to no room for error.
---
More From the Headlines
Thanks for reading Pressing today and always. Like what you read and want to support me? Consider a paid membership here. Otherwise, I'll see you next Tuesday! Send tips and feedback to sgnover@gmail.com.