Covid-19: A Crisis of Too Many Numbers
And not enough human stories
I'm Scott Nover. Welcome back to Pressing, a newsletter about press freedom. If you haven't yet subscribed, you can do so here and receive this letter in your inbox every Tuesday morning.
This is the 39th issue of Pressing and it's great to have you with me. Please send me feedback, thoughts, suggestions, and tips at sgnover@gmail.com.
---
Covid-19: A Crisis of Too Many Numbers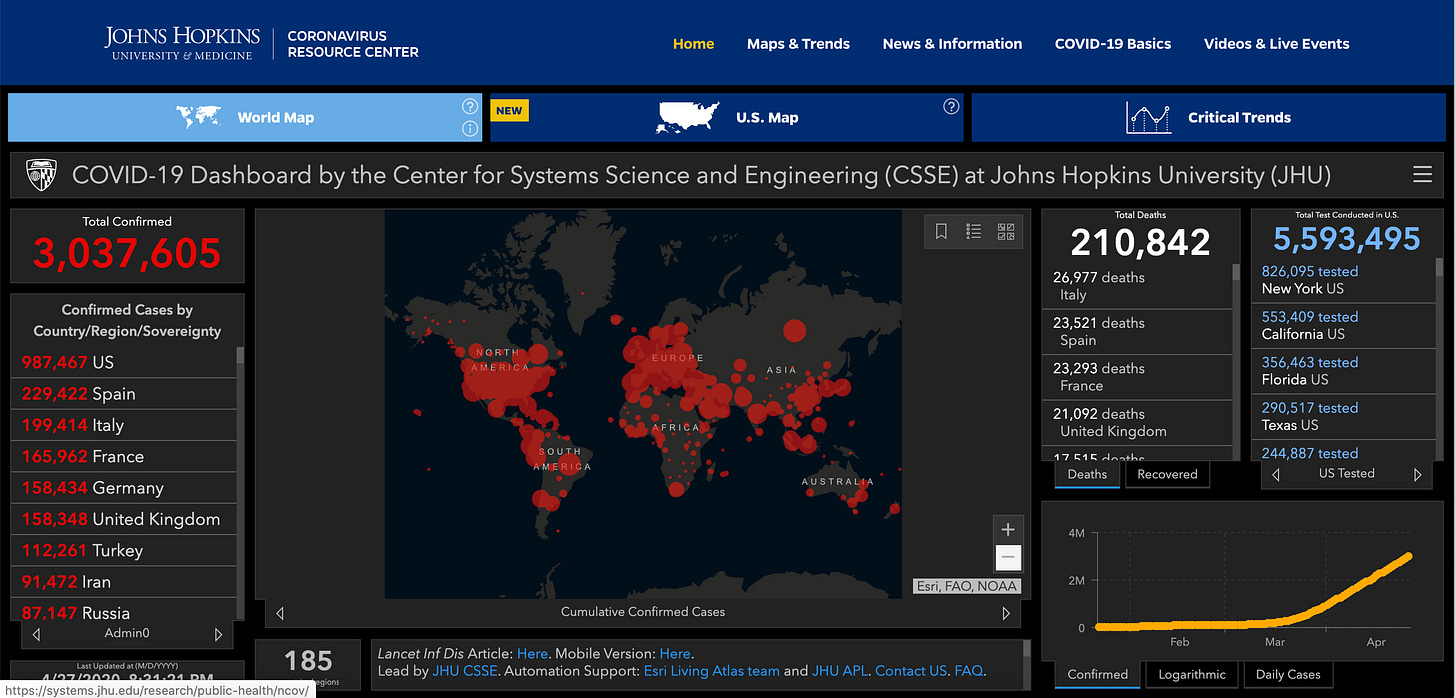 Our media environment seems monolithic. Everything is Covid-19 all the time. And for good reason. Truthfully, I don't think there's been another moment in contemporary history that has captured the entire world's attention like this. It's the biggest story I've ever seen.
Some researchers devote their entire careers to studying media effects, the ways in which media influences thoughts, behaviors, and attitudes. When this pandemic is all said and done—and perhaps before that—we'll know more about the media's role: How amplifying public health guidances, live-airing the president's remarks, and thwarting misinformation affected the public's understanding of the crisis.
I'm interested in the role of numbers.
On CNN, the Covid-19 four numbers adorn nearly every broadcast: cases in the United States, cases worldwide, deaths in the United States, and deaths worldwide. While numbers are crucial, I worry they make us numb to the reality of this pandemic.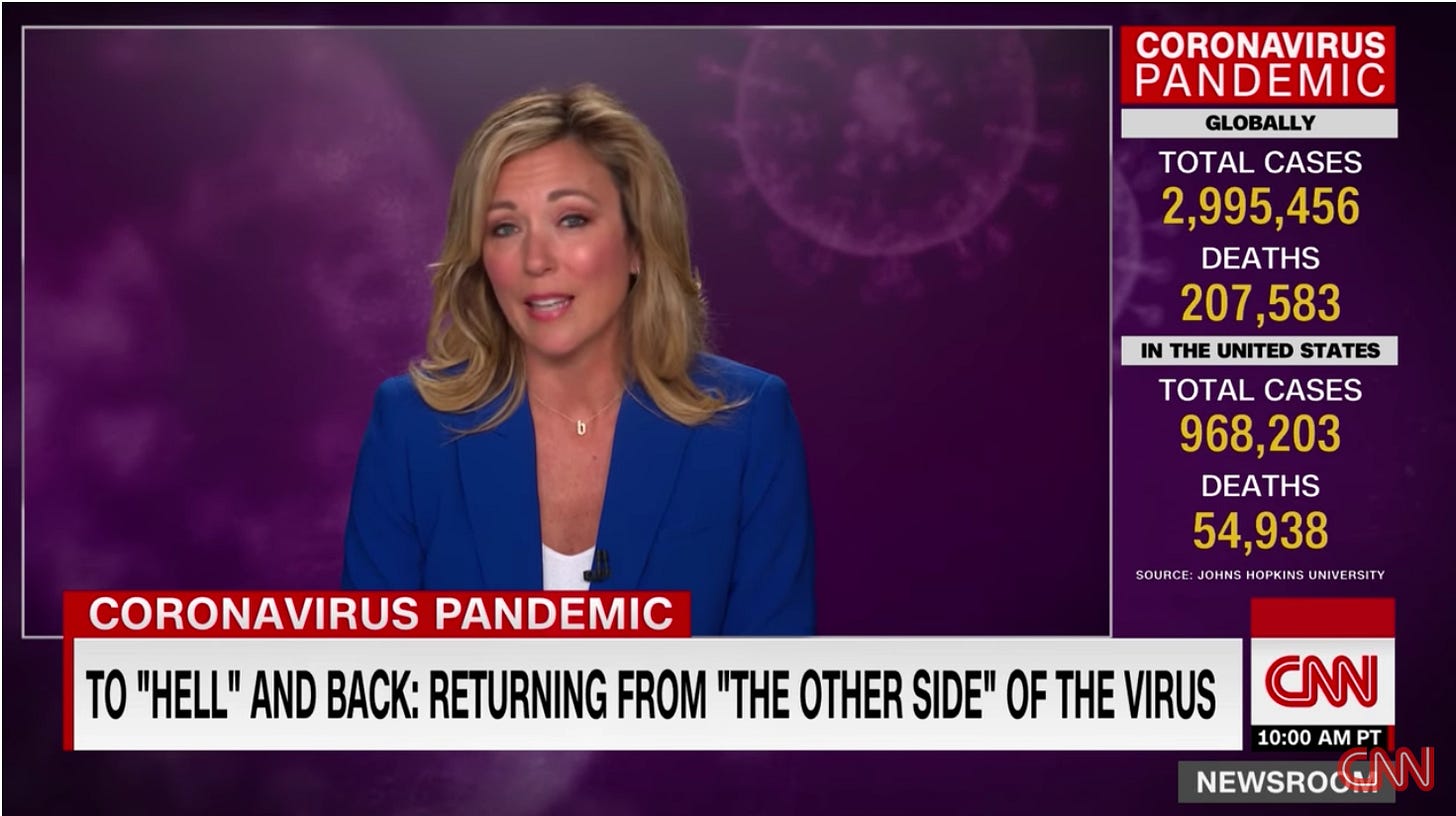 Last week, I wrote a feature story for Adweek about obituaries. I talked to the country's leading obituary writers, journalism academics, and experts who study grief to draw some conclusions about the state of the Covid-19 crisis. Perhaps my main takeaway is that this pandemic is far too dominated by numbers when it needs to be filled with stories. Obituary writers tell the stories of human lives, lived and lost, putting a real face on the numbers.
The George Washington University's Frank Sesno told me that obituaries both "mourn and warn." For many, Covid-19 only seems real, unfortunately, when it affects someone we know or love.
[ You can read my story on obituaries here. If you cannot get access, just email me and I'll send you the PDF! ]
Numbers play a role. Epidemiologists need numbers to track the virus. Economists need numbers to quantify the misery in job market and dynamism in the stock market. Citizens need numbers to make educated decisions about for whom to vote.
But, as someone sitting at home, watching the crisis unfold on my television screen, on social media, on news websites, I see far more numbers and charts and graphs and not enough stories about the woman at the corner store who lived a remarkable life before Covid-19 intervened. Or the 30-year-old who didn't think it could kill him, but it did.
Just a thought.
---
Do you love Pressing and want to support it? If you are able and interested, please consider a paid subscription here! I produce this letter on my own dime and in my own time.
---
In the Headlines
---
The 2020 World Press Freedom Index is Here
Reporters Without Borders (RSF) released its annual World Press Freedom Index last week. Here is the biggest line in the report:
"There is a clear correlation between suppression of media freedom in response to the coronavirus pandemic, and a country's ranking in the Index."
Read on: "Both China (177th) and Iran (down 3 at 173rd) censored their major coronavirus outbreaks extensively. In Iraq (down 6 at 162nd), the authorities stripped Reuters of its [license] for three months after it published a story questioning official coronavirus figures. Even in Europe, Prime Minister Viktor Orbán of Hungary (down 2 at 89th), had a 'coronavirus' law passed with penalties of up to five years in prison for false information, a completely disproportionate and coercive measure."
Here's the Top Ten: 1. Norway, 2. Finland, 3. Denmark, 4. Sweden, 5. Netherlands, 6. Jamaica, 7. Costa Rica, 8. Switzerland, 9. New Zealand, 10. Portugal.
Here's the Bottom Ten: 171. Cuba, 172. Laos, 173. Iran, 174. Syria, 175. Vietnam, 176. Djibouti, 177. China, 178. Eritrea, 179. Turkmenistan, 180. North Korea
---
What Else is New?