Distress Down Under
Press freedom in Australia is breaking at the seams.
Welcome to Pressing, a new newsletter about press freedom. I'm Scott Nover and I'll be your guide. I'm a reporter based in Washington, D.C. and I write about how media and politics interact… and often clash. This newsletter will cover the threats to independent journalism in the United States and around the world. We live in trying times, where attacks on journalists are all too common. And so, monitoring the free publication and distribution of news is as crucial as ever. If you haven't yet subscribed you can do so here, and join me every Tuesday.
This is the first issue of Pressing. I'm excited to get started, but this is a work in progress. Please send your feedback, suggestions, and tips to sgnover@gmail.com. I want to make this a useful resource for you, so please send me your ideas. Let's jump in.
Trouble in Oz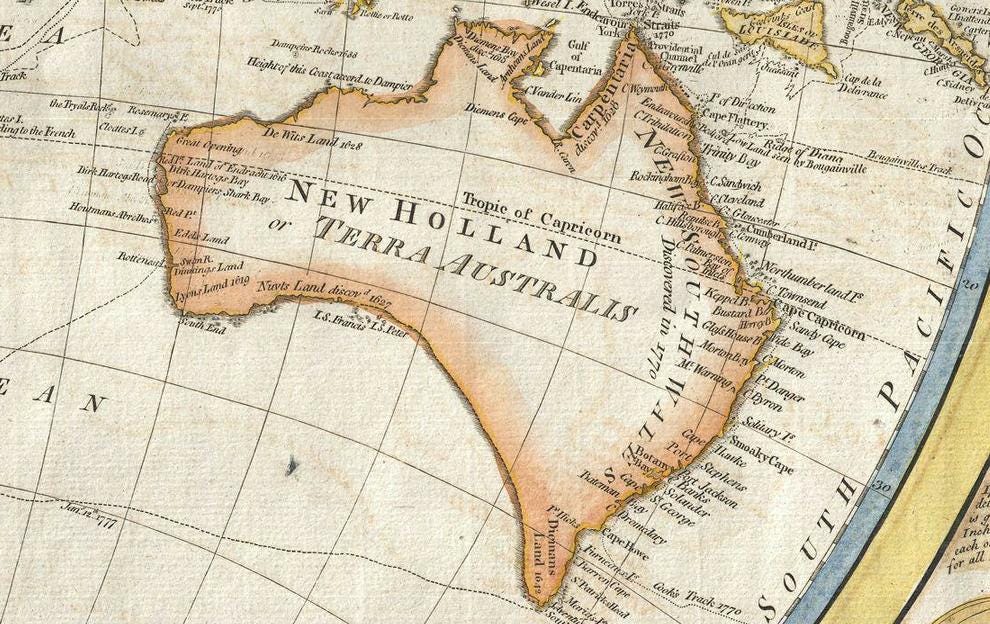 Last week, Australia suffered two major setbacks in press freedom. On Tuesday, the home of Annika Smethurst, the national politics editor at the Sunday Telegraph (owned by Rupert Murdoch's News Corp.), was raided by federal police in connection with sensitive information published last spring about the government expanding its surveillance powers. On Wednesday, police searched the offices of the Australian Broadcasting Corporation (ABC), the national broadcaster, over the publication of the 2017 "Afghan Files," which detailed illegal killings by Australian forces in Afghanistan.
Australia has had a disappointing track record in press freedom recently. More than 30 Australian reporters and editors are facing contempt of court charges over reporting on Cardinal George Pell's sex abuse convictions. Reporters Without Borders's (RSF) annual press freedom rankings note that "Australia adopted one of the toughest defamation laws of the world's liberal democracies in 2018, while its laws on terrorism and national security make covering these issues almost impossible." And actor Geoffrey Rush won a $2.9 million defamation suit against the Daily Telegraph — the largest such payout in the country's history — when they reported on allegations of Rush's alleged "inappropriate behavior" toward another actor during a production of King Lear.
Matt Ford put it best in The New Republic on Thursday:
"In theory, Australia is a democratic country. It has free elections, an independent judiciary, and civilian control of the military. When it comes to press freedom, however, Australia is a dismal backwater."
Australian Prime Minister Scott Morrison, defended the raids, saying it "never troubles me that our laws are being upheld." The Alliance for Journalists' Freedom (AJF) wrote a white paper suggesting a new media freedom act. "At the moment, there is nothing in Australian law that explicitly protects press freedom in the way that the first amendment does in the US constitution," AJF's Peter Greste wrote an op-ed for The Guardian Wednesday.
The New York Times editorial put it bluntly:
"Like the Trump administration, the Australian government seems determined to frighten whistle-blowers into silence and to undermine the core journalistic tool of source confidentiality. […] It should be self-evident to the guardians of Australian security that rogue soldiers and overreaching surveillance are the true risk to Australia's security, and that such threats will become far more dangerous if the wall of secrecy is made impregnable."
The U.S. Wants Assange
CNN is reporting that the U.S. has formally requested that Britain extradite WikiLeaks founder Julian Assange over alleged crimes related to his relationship with whistleblower Chelsea Manning. Initially, Assange was arrested in early April and the one charge against him was limited: for computer hacking. But, in late May, the Department of Justice levied 18 new charges against Assange, including some under the Espionage Act. While computer hacking is something no journalist should ethically do, the new charges go much further in scope.
John Demers, the assistant attorney general for national security said "Julian Assange is no journalist." Rather, he noted, Assange explicitly solicited classified information.
Soliciting classified information is a part of national security journalism. And the charges against Assange have ramifications for journalists everywhere… whether or not you believe Assange is a journalist. Here's First Amendment lawyer Ted Boutrous, quoted in The New York Times:
"It's not criminal to encourage someone to leak classified information to you as a journalist — that's called news gathering, and there are First Amendment protections for news gathering," said Theodore J. Boutrous Jr., a lawyer who frequently represents media organizations like CNN. "The ramifications of this are so potentially dangerous and serious for the ability of journalists to gather and disseminate information that the American people have a right to know."
Headline of the Week: "
The State Department has been funding trolls. I'm one of their targets."
Jason Rezaian, the former Washington Post Tehran bureau chief who was imprisoned in Iran for 544 days, wrote this column about a State Department-funded Twitter account, associated with the Iran Disinformation Project, that was trying to delegitimize him and others online.
"The common thread is that we are all perceived by regime change proponents and supporters of the Trump administration's so-called maximum pressure policy to be soft on Iran because we are critical of crushing economic sanctions and the threat of the use of military force against it," Rezaian wrote. "For these thought crimes, we are branded by @IranDisinfo and similar social media accounts as Tehran's 'mouthpieces,' 'apologists,' 'collaborators,' and 'lobbyists' in the West."
This is a very different State Department that negotiated for Rezaian's release from prison under the Obama Administration (though his freedom was used a bargaining chip in the Iran nuclear negotiations). In January, I did a lengthy Q&A with Rezaian for The Atlantic following the release of his (excellent) memoir, Prisoner.
New this morning: Rezaian's new column: "Why does the U.S. need trolls to make its Iran case?"
Times Reporter Barred from Reporting in Iran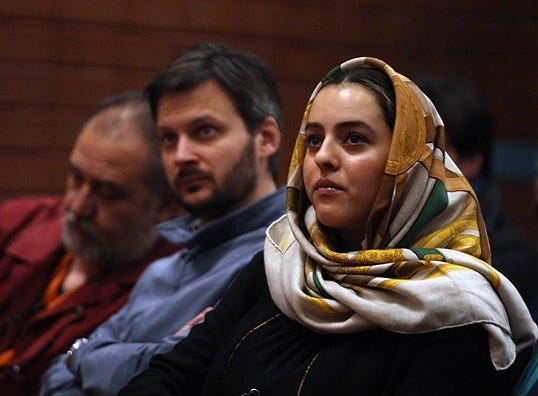 The New York Times is reporting that their Iran correspondent, Thomas Erdbrink, a Dutch citizen, has been barred from reporting in Tehran for the past four months. His wife, the Iranian photographer Newsha Tavakolian, who works for the Magnum photo cooperative, has also lost her credentials. Erdbrink had his credential revoked in February, but the issue was kept quiet until now. (Erdbrink was Rezaian's predecessor at the Post before coming to the Times in 2012.)
---
If you're not already subscribed to Pressing, click here to receive it weekly:
---
Russian Journalist Arrested on Dubious Drug Charges
Ivan Golunov, an investigative reporter for the Russian news website Meduza, was arrested Friday and charged with possession of illegal drugs with the intent to sell. His employer says two men "grabbed him, handcuffed him, and dragged him to a nearby vehicle." Golunov's lawyer says drugs were planted on him and the charges are bogus. His editor weighed in, noting that he's sure this is the Russian government retaliating for Golunov's reporting on government corruption:
Ivan Kolpakov, the editor-in-chief at Meduza, told the [Committee to Protect Journalists] that the drug charges were "absurd," and that he had "no doubts that the charges are fabricated and are related to Golunov's journalism."
Golunov was released from prison, but placed on house arrest, CNN reports. If convicted, he could spend 10 to 20 years in prison.
Russia's top three newspapers ran the same front page in solidarity with Golunov Monday. "Print's not dead yet," tweeted the Financial Times' Moscow correspondent Max Seddon. See it for yourself.
Here's a startling statistic from RSF: "More journalists are now in prison than at any time since the fall of the Soviet Union."
New Freedom House Study Says Global Press Freedom "Deteriorating"
Here are Sarah Repucci's four key takeaways from the new Freedom House report called Freedom and the Media: A Downward Spiral:
"Freedom of the media has been deteriorating around the world over the past decade.

In some of the most influential democracies in the world, populist leaders have overseen concerted attempts to throttle the independence of the media sector.

While the threats to global media freedom are real and concerning in their own right, their impact on the state of democracy is what makes them truly dangerous.

Experience has shown, however, that press freedom can rebound from even lengthy stints of repression when given the opportunity. The basic desire for democratic liberties, including access to honest and fact-based journalism, can never be extinguished."
Read the full report here.
Meanwhile in Hong Kong…
A bill in Hong Kong that would allow criminal suspects to be extradited to mainland China has sparked massive protests throughout the region. Here's CPJ:
"Judicial independence and freedom of the press have underpinned Hong Kong's economic success for decades," said Steven Butler, CPJ's Asia program coordinator. "The proposed extradition bill threatens to undermine both by introducing the standards of China's highly politicized judicial system to the territory."
The fear is that China's government will crack down on journalism critical of the regime. Chris Yeung, chair of the Hong Kong Journalists Association, told CPJ:
While the law is not explicitly aimed at journalists, it "will become a kind of political weapon, a tool that [the mainland government] can use when necessary, and you never know when they will find it necessary," he said.
On Sunday, an estimated 1 million people marched in the streets of Hong Kong; but, government leaders have vowed to push forward with the extradition law. The AP has called this debacle Hong Kong's "biggest political crisis in years."
What I'm Reading
Online Platforms:
Misinformation and Propaganda:
Government Abuse:
Attacks on Journalists:
Finally… Bryan Cranston Being Bryan Cranston
Bryan Cranston won a Tony Award for "Network" because of course Bryan Cranston won a Tony Award for "Network." In his acceptance speech he said,
"I would like to dedicate this to all the real journalists around the world, both in the press — the print media — and the broadcast media, who actually are in the line of fire with their pursuit of the truth. The media is not the enemy of the people. Demagoguery is the enemy of the people."
Keep speaking my language, Bryan Cranston.
That's all for this week. Thanks for reading and I'll see you next Tuesday! Send tips and feedback to sgnover@gmail.com.