It's Kayleigh's Briefing Now.
Once upon a time, we lamented the death of the White House press briefing. But be careful what you wish for.
I'm Scott Nover. Welcome back to Pressing, a newsletter about press freedom. If you haven't yet subscribed, you can do so here and receive this letter in your inbox every Tuesday morning.
This is the 41st issue of Pressing and it's great to have you with me. Please send me feedback, thoughts, suggestions, and tips at sgnover@gmail.com.
The Briefing Is Back and It's as Crappy As Ever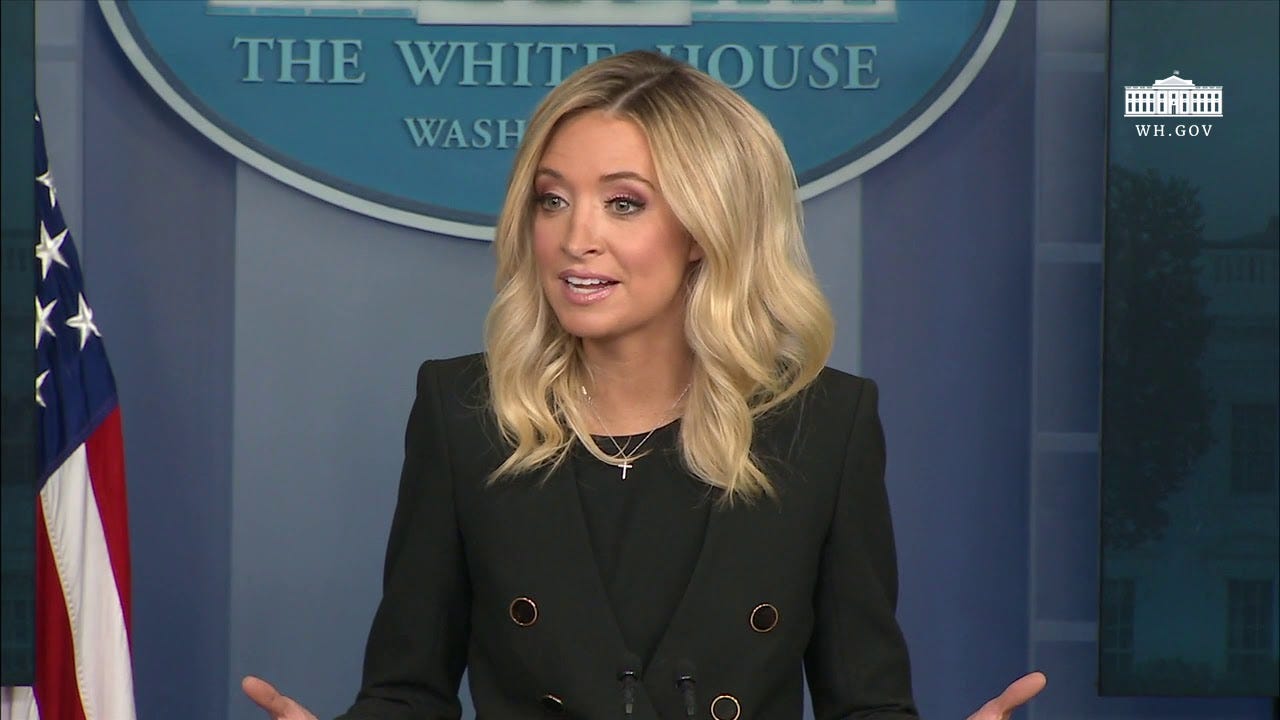 Once upon a time, we lamented the death of the White House press briefing.
For a Washington Post Magazine piece in January, Jonathan Karl told me that the loss of the briefings "has a negative effect on American democracy." Karl, a longtime ABC News reporter and the current president of the White House Correspondents Association, bemoaned the cessation of the press secretary's formal briefings for the nine months prior.
After Sean Spicer lied about crowd size and Anthony Scaramucci momentarily took the podium, Sarah Sanders became the chief mouthpiece for the president. But it's a tough job to speak for this president who is a voracious tweeter, a loquacious yammerer, and his own best hype man. Sanders eventually grew tired of dealing with the briefing and shut it down last March. And so her successor Stephanie Grisham followed in this precedent and simply never briefed the press.
In January, I wrote:
In Trump's third year in office, with impeachment steamrolling through Washington, the president's top spokesperson is almost invisible. Instead, the president engages reporters directly on the White House lawn, typically right before departures on Marine One. Stephen Colbert has dubbed these impromptu scrums "chopper talks," where, unlike in the White House briefing room, "the president sets all the rules."
To me, this feels like ancient history. Trump was impeached, but the Senate failed to convict him. Trump is no longer yelling in front of a helicopter because, well, there's nowhere to go. I wrote the Post piece before Iowa, before New Hampshire, before Super Tuesday, before Covid-19 was a major news story.
Now, Joe Biden is the presumptive Democratic nominee and Stephanie Grisham is gone. There are still months to go before the election but, at the White House, there's a new sheriff in town and she has resurrected the briefing.
Kayleigh McEnany first caught my eye on CNN, the darling up-and-comer that the cable network plucked to offer a young, eloquent pro-Trump view. The panelization of CNN over the years—as I call their pivot towards too much discussion-based programming—was a launchpad for the then-Harvard Law student: She eventually left CNN for a job at the Republican National Committee before becoming Trump's reelection campaign spokesperson.
In April, McEnany moved to the White House's august podium, which hadn't seen any action from the press secretary in more than a year, and actually started delivering press conferences. "I will never lie to you. You have my word on that," she said in response to a reporter's question in her first briefing. But she lied just minutes later.
It's May and the world is shut down and there's nothing to do, so I'm stuck thinking about what would be the lesser of two evils: no briefing or an unhelpful briefing?
I have little to no faith in the White House briefing under Trump—or most administrations, Democratic or Republican, to be perfectly honest. But I think the arena does matter.
In January, former George W. Bush press secretary Ari Fleischer told me he values the briefing but didn't think it should return under Trump because "The animosity from the press toward the Trump people is so intense and it's equally returned in spirit." I'm not sure that animosity is the right word for the press' view on Trump, but there certainly is a bad relationship—as Trump lambasts and vilifies the press. Still, it is the White House reporter's job to try to get information out of the administration on behalf of the public. And I do think the briefing allows that to be attempted if not executed successfully. (Sometimes the questions matter more than the answers.)
While Trump is definitely the most accessible president in history, he's also perhaps the least sensical. He often utters nonsense and the rest of us are stuck trying to decipher what he means. "I don't think we should confuse access with good information," said Liz Allen, a White House communications official under President Barack Obama for the Post piece. "A lot of what the president says isn't true or is embellished." 
McEnany's task is incredibly complicated. But at its most base form, Fleischer says this of the job description:
"The president announces what, and the press secretary explains why."
Amid the most consequential moment in Trump's presidency, and one of the most dire in American history, McEnany's task is to explain why.
80,000 Americans are dead and the country is starting to reopen prematurely. Trump is busy yelling about "Obamagate" and retweeting QAnon conspiracy theorists. And we are only a few weeks removed from the president telling people to drink bleach.
McEnany's task is to take what Trump says and explain why.
Good luck with that, Kayleigh. The stakes are high.
MORE ON KAYLEIGH:
---
Hey there! Do you love Pressing and want to support it? If you are able and interested, please consider a paid subscription here! I produce this letter on my own dime and in my own time.
---
What Else Is New?
---
Columns and Opinion
Technocracy
---
The International Women's Media Foundation is surveying journalists about online harassment as a result of the Covid-19 crisis. You can participate here.
---
Thanks for reading Pressing today and always. Like what you read and want to support me? Consider a paid subscription here. I'll see you next Tuesday! Send tips and feedback to sgnover@gmail.com.