The Legal Battles Facing Journalists
Aatish Taseer exiled, Deadspin's death, John Oliver on SLAPPs, and Maria Ressa on '60 Minutes.'
I'm Scott Nover. Welcome back to Pressing, a newsletter about press freedom. If you haven't yet subscribed, you can do so here and receive this letter in your inbox every Tuesday morning.
This is the 20th issue of Pressing and I'm very happy to have you on board. Please keep the feedback coming and send thoughts, suggestions, and tips my way at sgnover@gmail.com.
Aatish Taseer Exiled From India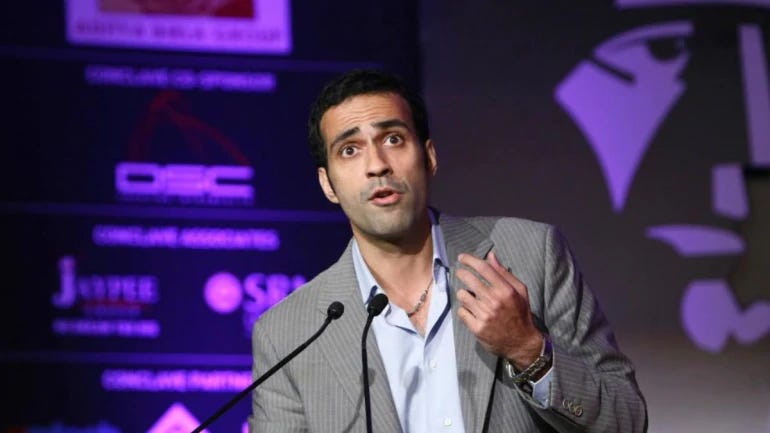 If you're a free subscriber, you missed my Friday essay about Aatish Taseer and his troubling exile from India.
Taseer, an Indian citizen living in New York, wrote "India's Divider in Chief," a critical Time Magazine cover story just before the country's May election, an election that saw Narendra Modi secure a second five-year term as prime minister.
Taseer recently learned his Overseas Citizenship of India (OCI) card, a kind of permanent visa, had been suspended. He says the government's reasons are bogus.
The result, a prominent Indian journalist is in exile, unable to return home.
If you'd like to read my essay, the first of a new Friday series I'm starting for paid subscribers, you can do so here.
---
More Problems with CBP
It feels like just yesterday that I wrote about U.S. Customs and Border Protection's problematic run-ins with journalists. Actually it was just over a month ago when Defense One editor Ben Watson was repeatedly interrogated by a CBP official at Dulles International Airport. "You write propaganda, right?" the official asked repeatedly. Remember this scene from my Oct. 8th newsletter?
Not long after, former NBC reporter Alistair Jamieson started to tell his own story on Twitter. "This experience @natsecwatson echoes my own when I was detained for hours by CBP and verbally abused for being 'fake news' because I worked for @nbcnews. Wildly inappropriate. Complaint was waved off. I haven't returned to the US since," Jamieson tweeted.
The incident happened in December 2017, almost a year into President Donald Trump's first term. Jamieson said he filed a complaint and CBP apologized but never updated him on their internal investigation into the official's conduct.
The U.S. Press Freedom Tracker interviewed Jamieson a couple of weeks ago, which you can read here.
---
A Note on Deadspin's Untimely Death
In America, we enjoy a relatively healthy media environment, relative to other countries. While we do have a president whose administration is openly volatile towards the press and towards individual journalists, we don't see much in the way of government interference with the press. There are exceptions, of course, which I often write about.
Most threats to the free functioning press, in my opinion, come from economic forces and bad-faith media owners. That's certainly what we've seen with the drawn-out breakup of what was once called Gawker Media Group. While it's important to note that Gawker was killed due to an invasion of privacy lawsuit brought on by Hulk Hogan (neé Terry Bollea) and funded by the vindictive billionaire Peter Thiel, a suit that bankrupted the company in 2016, a sort of corporate malfeasance has eroded Gawker's legacy and sister websites in the years since.
To recap, the remainder of the Gawker Media empire was purchased by a bright-eyed Univision Communications, which was in a much better financial place before the purchase. They were even eyeing an IPO. Univision's business struggled — for more on this, please see the Gizmodo Special Projects Desk's article about its parent company, subtly called "Univision Is A Fucking Mess" — and the media conglomerate sold the former Gawker/Gizmodo Media properties along with The Onion to the private equity firm Great Hill Partners. And so was born the tragedy of G/O Media, the newly formed company under Great Hill's stewardship.
I won't reiterate this scandal, as it's been widely covered, but I did want to provide some backstory and the following links. Together, they show how a vicious and troubled private equity firm destroyed two singular voices: the political blog Splinter, a spiritual successor to Gawker, and the sports and politics site Deadspin. After misguided edicts and firing the acting editor in chief, the entire staff of Deadspin quit this month and the site remains dormant.
Here's a recommended reading list for those interested in learning more:
It's important to note that many of these articles also discuss the circumstances that have afflicted Sports Illustrated in recent months, which I recently wrote about for Fortune Magazine — "Maven, the Media Company That Slashed Sports Illustrated, Has Had Its Own Share of Financial Woes" — where a new parent company fired troves of staff and started a new publishing model that relies on underpaid labor for team-specific websites under the SI banner. The Ringer's article and to an extent The New Yorker's article each link the SI and Deadspin situations, portending a frightening new era of gutted and cheapened sportswriting, achieved through low pay and insistence that sports stay separated from politics. (Even ESPN has fallen into this trap, which I also wrote about for Digiday this summer.)
In this newsletter, I don't usually write about industry trends as much as I write about press freedom concerns and issues in media law. But, I wanted to write about Deadspin and, to an extent, Sports Illustrated because private-sector forces in media are also threats to the free and unrestricted flow of information and political speech. The health of a country's corporate media is incredibly important.
It's important for advocates of press freedom to scrutinize both public- and private-sector abuses. Or, Deadspin won't be the only voice missing.
---
John Oliver on SLAPPs
Did someone tell John Oliver about my favorite topic? In his Sunday segment, Oliver discusses strategic lawsuits against public participation, or SLAPPs. The message is important: these are bogus lawsuits that exist solely to inconvenience or bankrupt vulnerable defendants. The occasion was serious: Oliver and "Last Week Tonight" have been sued numerous times, including once from Bob Murray, the CEO of a controversial coal mining company who Oliver covered and satirized.
This particular suit cost HBO $200,000 in legal fees and "tripled" its libel-insurance premiums, Oliver said on air. Murray has a track record of using these kinds of suits to intimidate people and news outlets before or after critical coverage.
"We badly need effective anti-SLAPP laws nationwide to deter powerful people like Bob Murray from using the courts to shut down people's legitimate dissent," Oliver said.
The entire segment is hilarious, important, and you can watch it here.
---
Reveal's Legal Battle with Planet Aid
Reveal, an initiative of the Center for Investigative Reporting, reported that they've long been fighting a defamation suit that's resulted from a series of in-depth reports on the global charity Planet Aid. Christa Scharfenberg and Matt Thompson, a former colleague of mine at The Atlantic, wrote that the lawsuit has taken three years and cost millions of dollars in legal fees. They've stayed silent about it until now:
We have spent years dredging Planet Aid's complaint and declarations for any evidence that might merit correcting our stories. We have found none. We welcome others to join the pursuit.

That Planet Aid has chosen to attack Reveal with lawyers and legal bills rather than facts is another sign of a troubling turn in the environment journalists are confronting increasingly. In spring 2016, as the first of our stories on Planet Aid was being published, another lawsuit against a news organization, Bollea v. Gawker, was coming to an end …

Planet Aid's actions in its lawsuit against Reveal are a manifest example of what deep-pocketed interests can do to a news organization even when the facts are on the journalists' side.
This is, it seems, a SLAPP suit in action. It's also a product of the post-Gawker era in which newsrooms and journalists are subject to a highly litigious environment.
"We will continue to report on the organization, creating editorial structures to safeguard the independence of this investigation internally," they write. "And we will cooperate with media reporters and others who wish to cover this case, because we believe it illuminates aspects of the legal playbook organizations that want to silence journalists will increasingly adopt."
It's a tough battle, but it's good they're not giving up. And it's good that they're being transparent.
Read Matt and Christa's full note here.
---
'60 Minutes' Profile of Maria Ressa
I'll conclude with this '60 Minutes' profile of Rappler's Maria Ressa, who I've written about in this newsletter before. On a personal note, I had the opportunity to meet Maria in September and I was wowed: she's not only a hero for her work as well as the face of press freedom in Philippines, she's also a shockingly kind and humble person.
Despite threats on her life, arrests, and lingering court battles, Maria trudges along, doing the important work of covering the Rodrigo Duterte regime in her country. She is an outspoken critic of the spread of misinformation on social networks like Facebook, and threats to other journalists in the Philippines
In Bill Whitaker's segment for '60 Mintues,' he interviews Duterte spokesman Salvador Panelo, who absurdly says that Ressa enjoys being arrested.
"I mean, that is a ridiculous statement," Ressa says in response, visibly bothered. "I have done nothing but to be a journalist. And I will not stop being a journalist."
Watch the entire segment here and watch Whitaker reflect on how journalism in the Philippines has changed in the last 30 years in '60 Minutes Overtime' separate segment.
---
Thanks for reading Pressing today and always. I'll see you on Tuesday! Send tips and feedback to sgnover@gmail.com.