Kidnapping and Murder in Mexico
Peril in the "most dangerous country for journalists in the Western Hemisphere"
I'm Scott Nover. Welcome back to Pressing, a newsletter about press freedom. If you haven't yet subscribed, you can do so here and receive this letter in your inbox every Tuesday morning.
This is the second issue of Pressing. Thank you all for your kind words and feedback after the first issue. Please keep it coming and send thoughts, suggestions, and tips my way at sgnover@gmail.com. Let's jump in.
One Journalist Murdered, Another Kidnapped in Mexico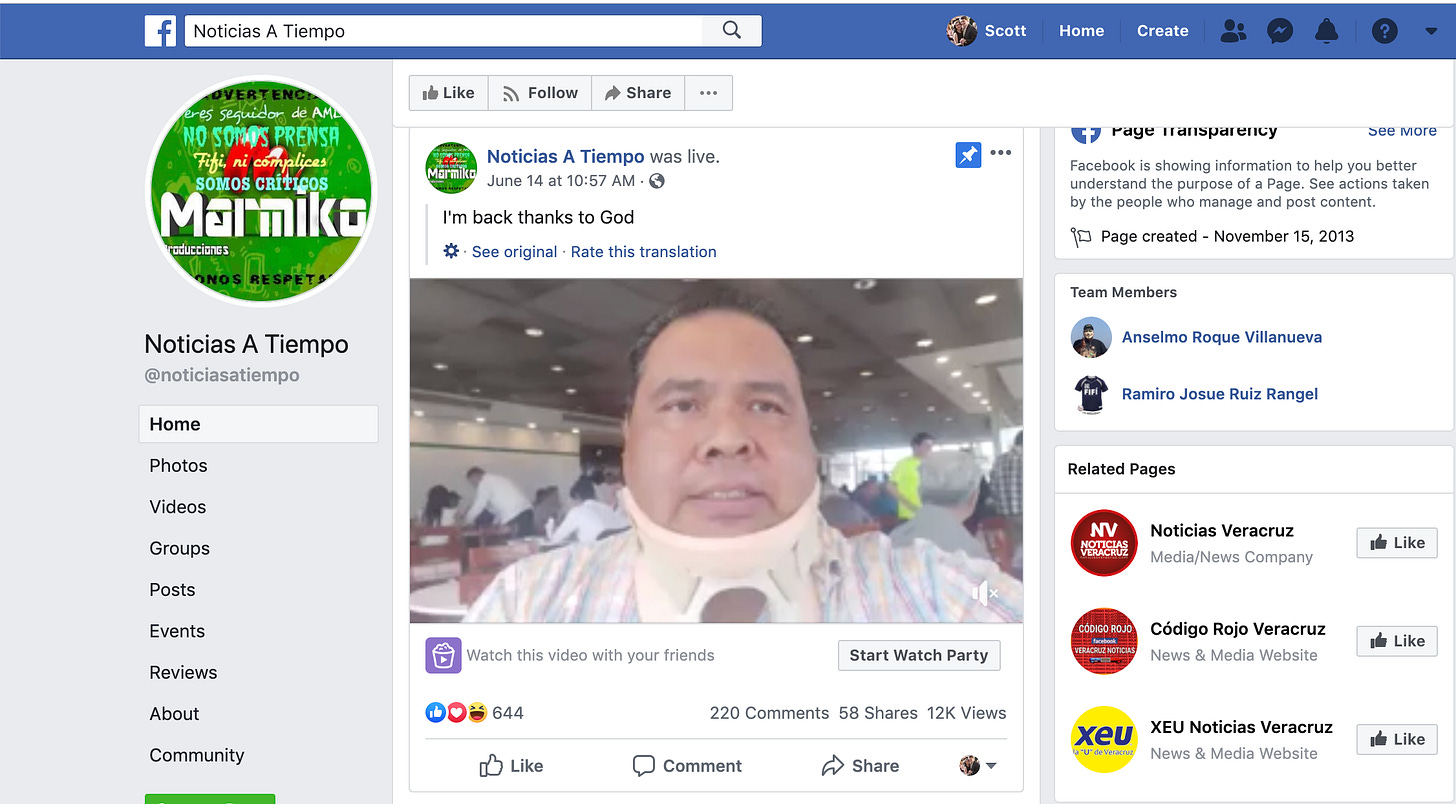 Norma Sarabia, a reporter for the newspaper Tabasco Hoy, was shot and killed outside her home by two masked men on motorcycles last Tuesday night. Sarabia covered organized crime for the newspaper she worked at for 15 years.
Just a day later, on Wednesday, Marcos Miranda Cogco, who reports for Noticias A Tiempo, a Facebook page he founded, was kidnapped outside his home in Veracruz by armed men. Thankfully, he was rescued hours later, as the Washington Post described:
Police said in a statement that they intercepted a suspicious vehicle traveling down a dirt road late Wednesday and a shootout ensued between officers and three apparent captors, who escaped on foot. Reporter Marcos Miranda Cogco was discovered tied up in the back of the car.
The Committee to Protect Journalists (CPJ) says Mexico is the "most dangerous country for journalists in the Western Hemisphere." Sarabia is the seventh journalist killed in Mexico since the new president, Andrés Manuel López Obrador, took office on December 1, 2018.
CPJ is hosting a press freedom summit in Mexico City today to address this troubling trend.
---
NEW THIS WEEK: "Green Blood," a series involving 40 journalists from 15 countries organized by the collective Forbidden Stories, debuts online. The series examines threats to journalists "covering environmental damage and other abuses by mining companies." Watch the trailer here.
---
Sarah Sanders out, Trump tweets skyrocket
White House press secretary Sarah Sanders is leaving her post at the end of the month. Her tenure has been marked by her virtual refusal to openly brief the press. During this time, CNN kept count:
Her resignation came on the 94th consecutive day without a White House briefing, the longest stretch of time without a briefing since briefings became a daily, televised occurrence more than two decades ago. In the past 300 days, only eight briefings were held, according to CNN's tally.
Sanders also played a heavy role — along with President Donald Trump and former communications director Bill Shine — in revoking CNN White House correspondent Jim Acosta's credentials in November (which I covered for The Atlantic). The debacle spurred Acosta to sue the White House, where a federal judge eventually granted a temporary restraining order before the White House dropped the ban and Acosta resultantly dropped the suit.
Meanwhile, President Trump's tweet-bashing of the press has a troubling new record in the books:
In one of those instances Saturday night, the president called the New York Times' reporting on U.S. cyber attacks on the Russian power grid a "virtual act of Treason." The Times fired back, noting that Trump's own National Security Council took no issue with the reporting:
Read more: Erik Wemple has a smart analysis for the Washington Post:
'Virtual act of Treason': The New York Times is blowing Trump's mind
---
If you're not already subscribed to Pressing, click here to receive it weekly:
---
Turkey indicts Bloomberg reporters
Bloomberg News reporters Kerim Karakaya and Fercan Yalinkilic have been charged by a Turkish court with trying to undermine the country's economy. The indictments against Karakaya and Yalinkilic stem from a Bloomberg story published last August about a currency shock with the Turkish lira. The state banking regulator BDDK filed criminal complaints against the two Bloomberg reporters and 36 others — people who shared and commented on the story online — in an outrageous indictment that was accepted by a Turkish court Friday. The charges carry a maximum prison sentence of five years. Bloomberg editor in chief John Micklethwait said the following in a statement:
"We condemn the indictment issued against our reporters, who have reported fairly and accurately on newsworthy events. We fully stand by them and will support them throughout this ordeal."
---
More Headlines This Week
---
What'd I Miss?!
The tough task of this newsletter is that the scenarios we cover are both dynamic and fragile. We'll try our best to update you on new developments about previous coverage from the weeks before. Here's what's new:
After federal police raids on the Australian Broadcasting Corporation (ABC) and at the home of Sunday Telegraph reporter Annika Smethurst's, the Labor Party (opposition) has called for a a parliamentary inquiry into press freedom.

In Hong Kong, after mass protests against the extradition bill with China, the city's chief executive Carrie Lam suspended passage of the bill in hopes of calming down the crowds. But, now protestors are out in even greater numbers, with 2 million protestors demanding Lam's resignation. Meanwhile, police have used tear gas and batons on journalists, according to CPJ. Stay tuned for more here.

Russian reporter Ivan Golunov was freed after being arrested on bogus drug charges and placed on house arrest by Russian authorities. After a moment of public outcry and solidarity from Russia's biggest newspapers, the Meduza reporter was let go and the charges were dropped. The police officers who arrested him have been suspended and an internal investigation into the drug charges has been initiated. Golunov talked to his employer for an article here.
That's all for this week. Thanks for reading and I'll see you next Tuesday! Send tips and feedback to sgnover@gmail.com.