Layoffs, Layoffs, and More Layoffs
The news industry is suffering. Outlets are shutting down, instituting layoffs, furloughs, or pay cuts.
I'm Scott Nover. Welcome back to Pressing, a newsletter about press freedom. If you haven't yet subscribed, you can do so here and receive this letter in your inbox every Tuesday morning.
This is the 38th issue of Pressing and it's great to have you with me. Please send me feedback, thoughts, suggestions, and tips at sgnover@gmail.com.
---
Layoffs and Layoffs and Layoffs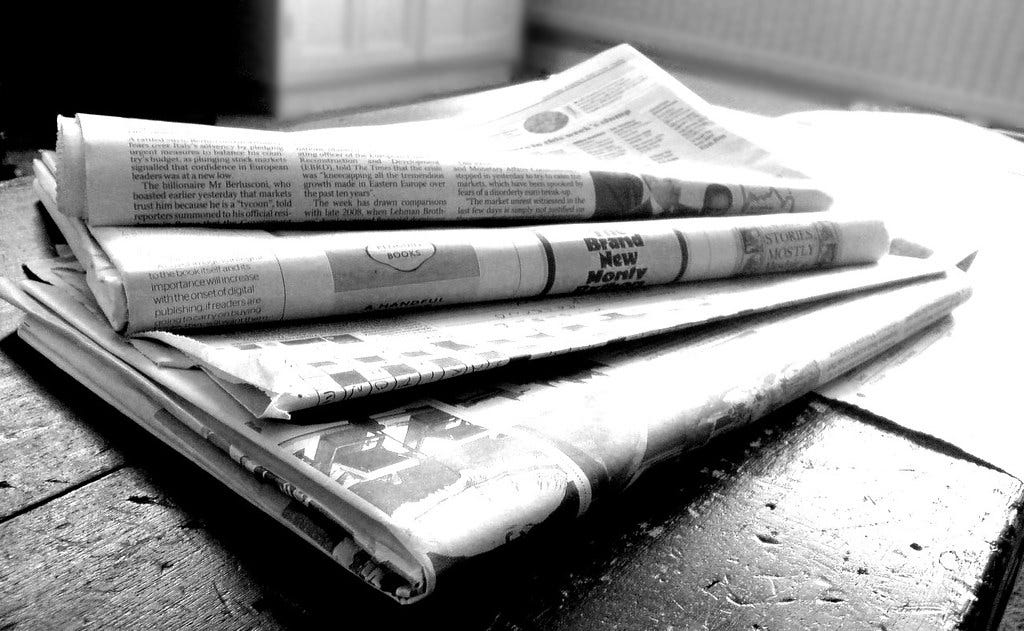 I tried writing this newsletter last week, but it didn't happen.
I live in Washington, D.C., but left a month ago to quarantine with my parents in South Jersey. It's good to be with family, but it's also a bit odd. I've been sleeping in my childhood bedroom, reporting from the quiet spots in a busy house.
I'm a big proponent of remote work, but this is not normal. I typically hop around between a WeWork, various coffee shops and my apartment. I'm grateful for my health, my family, and this whole setup, but it's very hard to focus, to be productive, to clear my head day in and day out.
But I'm lucky: I still have a job.
So far, there have been no layoffs, pay cuts, or furloughs at Adweek, where I started working in February. Unfortunately, thousands of journalists haven't shared my good fortune.
Poynter's Kristen Hare is keeping a running list of U.S. news outlets closing, laying off and furloughing staff, and cutting pay. It's an extremely long, terrible document. Here are some top-line highlights I just pulled:
At least 27 outlets have canceled, suspended, or cut back their print products.

At least 28 outlets have laid of staffers.

At least 21 outlets have had furloughs.

At least 17 outlets have had pay cuts.

At least three outlets have shut down.
These aren't just small news outlets or just local outlets. The Outline shut down. Conde Nast, BuzzFeed, and Vice had pay cuts. Gannett and McClatchy announced furloughs.
I wrote one piece about media layoffs when CQ Roll fired 30 employees, but my colleague Sara Jerde, who covers news outlets, is writing about this stuff every single day. It's incredibly hard to do your job as a journalist—even if you're not writing about coronavirus or layoffs—when your friends, peers and coworkers are losing work.
Some people are trying to help. The new group Microloans for Journalists is offering 0% interest loans for laid off journalists. The New York Times is giving small grants to freelance journalists who wrote for them this year. Facebook is giving $100 million in grants to local news organizations. And my colleagues Sara Jerde and Josh Sternberg are publishing the stories of affected journalists in hopes of connecting them to those who are hiring in media.
But we're short on answers: Some like the liberal group Free Press are even calling for a government stimulus for the news industry.
Today's top press freedom story, in the United States at least, is that this economic crisis poses a major threat to the news industry. At a time when the president is wrongly touting his "total authority" we need people to fact-check him and set him straight, like CNN's Katlin Collins did yesterday. People around the country and around the world need reliable information about this life-and-death crisis. The need for journalists could not be greater.
---
Do you love Pressing and want to support it? If you are able and interested, please consider a paid subscription here! I produce this letter on my own dime and in my own time.
A quick programming note: Since I started working at Adweek full-time and the COVID-19 pandemic rocked the world, my ability to produce extra features for paid subscribes has shrunk. Hopefully, the world and my schedule will settle down and I'll be able to do extra writing for paid subscribers soon. Until then, if you have paid and want a refund, just let me know! Otherwise, I really, really appreciate your patronage and your contribution helps me be able to produce this weekly newsletter for free for all 300-plus of my wonderful subscribers. Thank you for understanding and constantly supporting this project over the last 10 months!
---
Things Trump Said to the Press This Week
What Else Is New?
---
Smart Takes
---
Those We've Lost to COVID-19
---
Thanks for reading Pressing today and always. Like what you read and want to support me? Consider a paid subscription here. I'll see you next Tuesday! Send tips and feedback to sgnover@gmail.com.