One Year In
Pressing enters its second year as threats to journalists mount in America
I'm Scott Nover. Welcome back to Pressing, a newsletter about press freedom. If you haven't yet subscribed, you can do so here and receive this letter in your inbox every Tuesday morning.
This is the 44th issue of Pressing and it's great to have you with me. Please send me feedback, thoughts, suggestions, and tips at sgnover@gmail.com.
---
I Started This Newsletter One Year Ago… U.S. Press Freedom Is Getting More Tenuous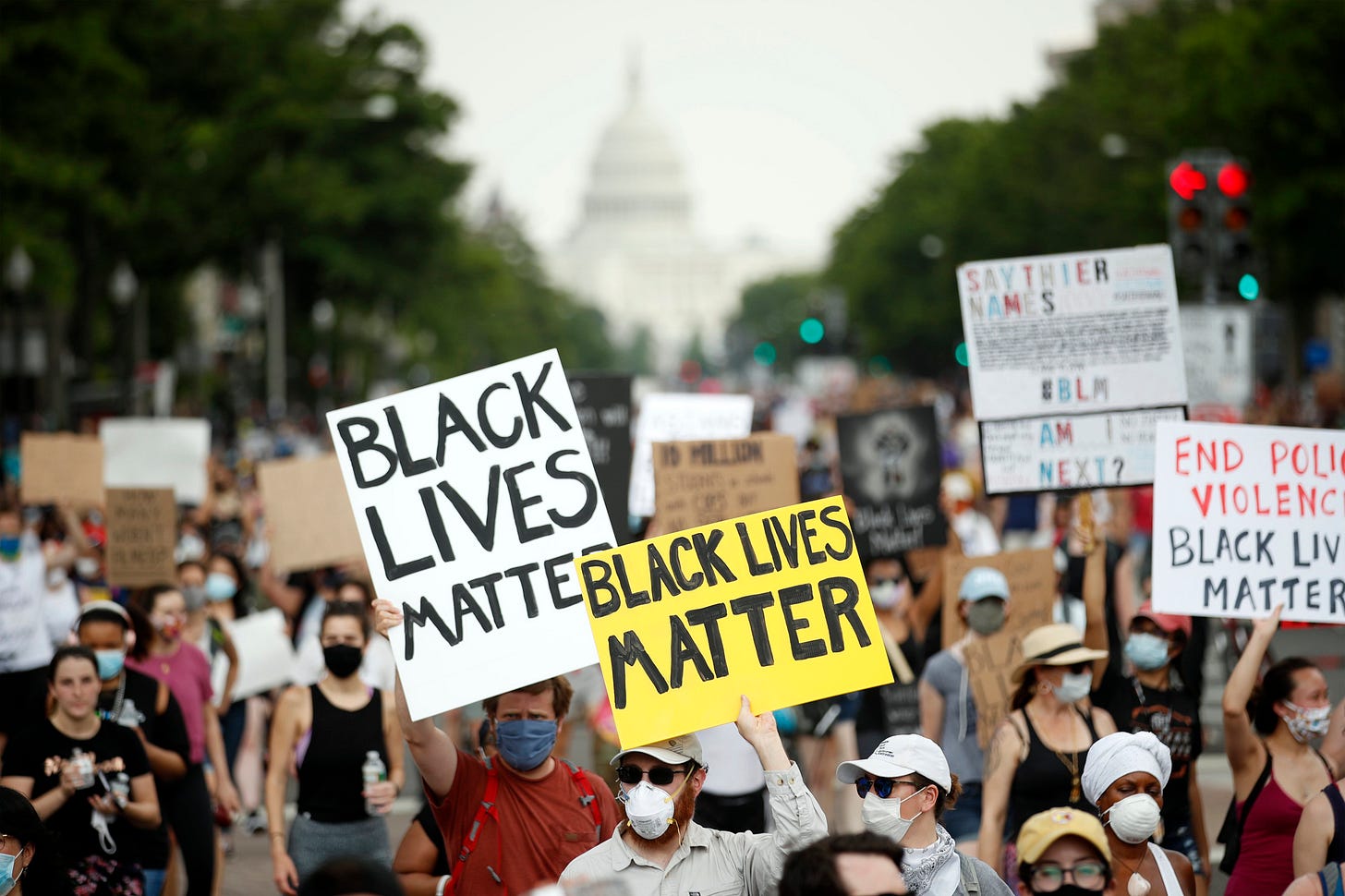 If you told me a year ago, when I started this newsletter, that in the year ahead there would be 306 incidents where journalists were arrested, hurt, targeted or unlawfully restricted in the United States, I would have said that's a terrible year.
But I found those 306 incidents just two weeks.
The protests that arose in the aftermath of George Floyd's killing have reminded us that grave dangers to journalists do, in fact, exist here in America. The threats of an overzealous militarized police force are not unique to military juntas or autocratic regimes elsewhere in the world, they also emerge when domestic law enforcement abuse their power.
The threats posed to journalists are in one way unique to the profession: In my work tracking these incidents I found far too many occurred after individuals identified themselves as press.
Police shot tear gas at isolated groups of reporters, they bludgeoned a camera man with riot shields, blinded a reporter with a rubber bullet, and arrested a CNN reporter live on air.
There's no excusing these threats to journalists. Police were given a chance and failed time and again.
In another sense, the attacks on journalists are a microcosm of the violence against protesters. In this country we have the same First Amendment rights regardless of whether we are professional journalists or civilian protesters.
Everyone participating in and covering the protests put their lives on the line to do so. In the middle of a pandemic, an invisible threat is always there even when the tear gas canisters and police batons and riot shields go away.
The response to my last newsletter and the spreadsheet I made was unlike anything I've experienced before. What I did wasn't special. I didn't put my body on the line or my health at risk like those whose plight I detailed. I have many friends who covered the protests and they are far braver than I am.
I simply aggregated this information from individual accounts and others doing similar work. But I'm happy to have helped in a small way from the comfort of my home. Sometimes, even when you know press freedom is under siege, looking at it in a different way can shock your entire system. Journalism in this country—and around the world—should not be a dangerous job.
I'm grateful to each of you who read, shared, and helped me with this. I am also grateful to NowThisNews' Zinhle Essamuah, The New Republic's Parker Richards and David Feldman of The David Feldman Show who each highlighted my work in recent days.
I've been writing about media since 2016, a pivotal year for the American press. 2016 was a year where a president was elected, in part, on an anti-press platform. This has been a terribly difficult thing for the American press to cover—and journalists are not perfect—but more importantly it's elucidated and exacerbated the true dangers reporters face in this country. There's danger in the streets, in the courts, and even in our own newsrooms.
I interviewed The Washington Post's Jason Rezaian last January, who was unlawfully imprisoned in Iran for 544 days for the crime of doing journalism. He said:
… ultimately, my main message is that we need to keep the lines of communication open always. With everybody. I was cut off from those lines of communication for a year and a half. I have them back now. I hope to never lose them again.
I don't write this newsletter and focus on press freedom issues because I think the press is more important than anyone else. But if we can't do our jobs without threats or interference, then we risk severing the lines of communication in our society—lines that keep this country accountable to its citizenry.
It's what makes us a functional state and a free people.
Thank you for being with me for Year One. I appreciate it more than you know.
---
Hey there! Do you love Pressing and want to support it? If you are able and interested, please consider a paid subscription here! I produce this letter on my own dime and in my own time. (Disclaimer: I have not been able to produce paid-only posts in a while, but hope to resume before long)
---
A Tragedy in the Philippines: Maria Ressa Convicted
Maria Ressa, a journalist and the CEO of Rappler, was found guilty of "cyber libel" in the Philippines, the result of a high-profile case widely considered an act of political retribution for her critical coverage of Rodrigo Duterte's regime.
"Today a court in the Philippines became complicit in a sinister action to silence a journalist for exposing corruption and abuse," wrote Amal Clooney, Ressa's lawyer. "This conviction is an affront to the rule of law, a stark warning to the press, and a blow to democracy in the Philippines."
The conviction means Ressa could serve six months to seven years in prison, but will certainly be bailed out while as she appeals the judgment.
Ressa said she hopes the appeals court will "set the record straight" and that the United States "will take action to protect their citizen and the values of their Constitution." Ressa has both Filipino and American citizenship.
In September, I was fortunate enough to meet Maria in Washington, D.C. at The Atlantic Festival (see her conversation with Matt Thompson of the Center for Investigative Reporting from later that day below). She was nothing short of gracious, humble, thoughtful and kind. My heart goes out to her in this time.
Maria represents fearless reporters all around the world who do journalism in places where doing so can cost your livelihood, your freedom, or your life.
READ MORE:
---
What Else Is New?
---
Technocracy
---
Thanks for reading Pressing today and always. Like what you read and want to support me? Consider a paid subscription here. I'll see you next Tuesday! Send tips and feedback to sgnover@gmail.com.