Sandmann Settles
The Covington Catholic teen settled his defamation suit with the Washington Post after doing the same with CNN in January.
I'm Scott Nover. Welcome back to Pressing, a newsletter about press freedom. If you haven't yet subscribed, you can do so here and receive this letter in your inbox every Tuesday morning.
This is the 48th issue of Pressing and it's great to have you with me. Please send me feedback, thoughts, suggestions, and tips at sgnover@gmail.com.
Sandmann Settles: A Closing Overview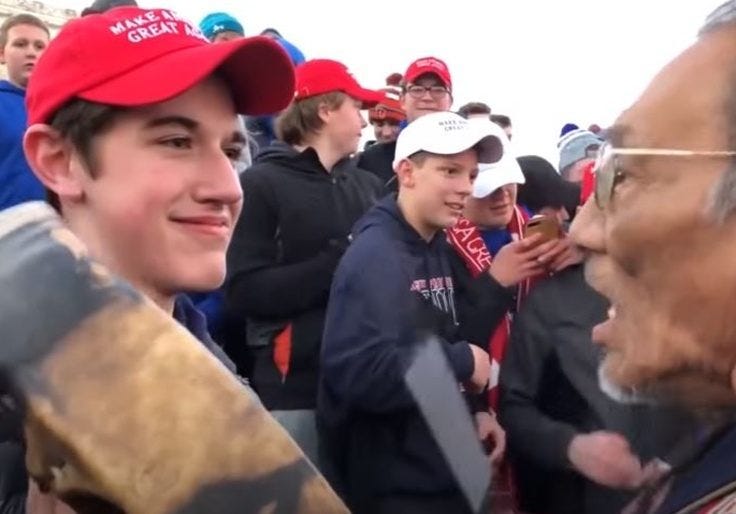 On Friday, Nicholas Sandmann settled with The Washington Post.
If you've paid attention during the Trump era, you've seen Sandmann's face. It's a face that instantly caught the world's attention in a viral video—a symbol, it seemed, of a young white boy's smug mockery of a Native American man at a particularly tense moment in American polity.
The Washington Post reported that the boy wore a "relentless smirk" during that late January 2019 standoff at the Lincoln Memorial. But later videos showed a fuller picture: a group of Black Hebrew Israelites seemed to have instigated the tense moment, shouting slurs at Sandmann's group of Trump-supporting students. Perhaps Sandmann wasn't what he seemed in the viral video.
On March 1, more than a month after the incident, the Post added an editor's note on its initial reporting, which read:
Editor's Note: Subsequent reporting, a student's statement and additional video allow for a more complete assessment of what occurred during the Jan. 18 incident at the Lincoln Memorial, either contradicting or failing to confirm accounts provided in this story — including that Native American activist Nathan Phillips was prevented by one student from moving on, that his group had been taunted by the students in the lead-up to the encounter, and that the students were trying to instigate a conflict. The high school student facing Phillips issued a statement contradicting his account; the bishop in Covington, Ky., apologized for the statement condemning the students; and an investigation conducted for the Diocese of Covington and Covington Catholic High School found the students' accounts consistent with videos.Subsequent Post coverage, including video, reported these developments: "Viral standoff between a tribal elder and a high schooler is more complicated than it first seemed"; "Kentucky bishop apologizes to Covington Catholic students, says he expects their exoneration"; "Investigation finds no evidence of 'racist or offensive statements' in Mall incident."
The Post's original reporting did not entirely hold up, especially in light of subsequent reporting, this note says. But was it defamatory?
I reported on the big legal questions for this lawsuit last year for The Atlantic. (Please note: I'm a reporter, not a lawyer.)
In short, the answer to that question would have depended on whether the court deemed him a "private figure"—where mere negligence could prove defamation—or if he qualified as a "limited-purpose public figure" (someone who has "thrust themselves to the forefront of particular public controversies"), a different standard under which Sandmann would have to prove the Post acted with "reckless disregard" for the truth.
Last July, District Judge William O. Bertelsman (E.D.K.Y.) dismissed the case against the Post, "ruling that all of the challenged statements were either opinion, not defamatory or not about Sandmann specifically," the Post's Paul Farhi reported. But in October, Bertelsman reinstated part of the lawsuit, considering specific statements about Sandmann blocking the path of Nathan Phillips, the Native American protester.
On Friday, he settled with the Post also for an undisclosed sum. But that's not the only lawsuit about this same issue. In January, Sandmann also settled for an undisclosed sum with CNN in a separate lawsuit against the AT&T-owned cable network. Sandmann's family, through lawyer Lin Wood, has also sued ABC, CBS, Gannett, NBC, The New York Times and Rolling Stone for defamation.
In an interview with Wood, he also told me he might sue the Associated Press, which he hasn't yet done. Before suing anybody, Wood sent letters to 50-plus media companies, journalists and celebrities (including The Atlantic and Atlantic Media), warning them of potential suits.
I'll end this recap with one interesting caveat to this whole ordeal: The Twitter account @RespectableLaw suggested yesterday that Sandmann probably didn't walk away with much money from the settlement. (I'd encourage you to read the long thread here.)
Based on the facts of the case—and what the judge was still considering at the time of the settlement—and the tone of both statements from Sandmann and the Post, he thinks Sandmann received about $50,000 (a far cry from the $250 million for which he sued.)
"The theme of this coverage should have been: "With his case hanging by a rapidly unraveling thread, the Covington kid decides to call it quits," he wrote.
Have thoughts on this case and how it all played out? Do you think Sandmann walked away with more money? Respond to this email and let me know what you think.
---
Hey there! Do you love Pressing and want to support it? If you are able and interested, please consider a paid subscription here! I produce this letter on my own dime and in my own time. (Disclaimer: I have not been able to produce paid-only posts in a while, but hope to resume before long)
---
More in Media Law
Bloomberg: Snowden Faces Possible Sanctions in Suit Over Tell-All Book (Erik Larson)
The Los Angeles Times: Harry and Meghan sue unnamed paparazzi for taking photos of Archie at home (Anousha Sakoui)
The New York Times: Judge Orders Cohen Released, Citing 'Retaliation' Over Tell-All Book (Benjamin Weiser and Alan Feuer)
The Seattle Times: Judge rules Seattle media companies must hand over unpublished protest images to police (Mike Reicher)
NPR: Detroit Officer Charged Over Journalists Being Shot With Rubber Pellets (Jason Slotkin)
RCFP: Reporters Committee reaches settlement with Justice Department after 5-year FOIA battle (Courtney Douglas)
---
On Burning Out: I received some very nice notes after last week's issue on burnout. I am feeling a bit better this week, but long-term exhaustion and stress is never fun. There's almost a kind of singularity to the kind of burnout and grief we are experiencing during this pandemic and it's both fascinatingly weird and intimately difficult. I hope each of you takes the time to look after yourself and others.
You can read my essay here.
---
Around the World
Foreign Policy: No, Mr. Prime Minister, Pakistan Does Not Have a Free Press (Michael Kugelman)
The Guardian: Lawyers protest as Zimbabwean journalist's bail decision postponed (Jason Burke and Nyasha Chingono)
The Guardian: New York Times moves staff out of Hong Kong amid press freedom fears (Helen Davidson)
The New York Times: Philippine Congress Officially Shuts Down Leading Broadcaster (Jason Gutierrez)
Reuters: Thousands of Hungarians march for media freedom after website muzzled (Marton Dunai and Krisztina Than)
---
A quick plug: I'm enjoying Brady Gerber's newsletter on writing. Check it out here!
---
Technocracy
Adweek: This Group Says Social Media 'Has Become the Klan Den of the 21st Century' (Scott Nover)
Ars Technica: Trump campaign angry that cell carriers blocked spammy texts to voters (Jon Brodkin)
The Guardian: If you're not terrified about Facebook, you haven't been paying attention (Carole Cadwalladr)
The New York Times: Don't Ban TikTok. Make an Example of It. (Kevin Roose)
---
Thanks for reading Pressing today and always. Like what you read and want to support me? Consider a paid subscription here. I'll see you next Tuesday! Send tips and feedback to sgnover@gmail.com.