The End of Hong Kong As We Know It
A stringent new law signals the end of the region as a bastion for free expression
I'm Scott Nover. Welcome back to Pressing, a newsletter about press freedom. If you haven't yet subscribed, you can do so here and receive this letter in your inbox every Tuesday morning.
This is the 46th issue of Pressing and it's great to have you with me. Please send me feedback, thoughts, suggestions, and tips at sgnover@gmail.com.
The End of Hong Kong As We Know It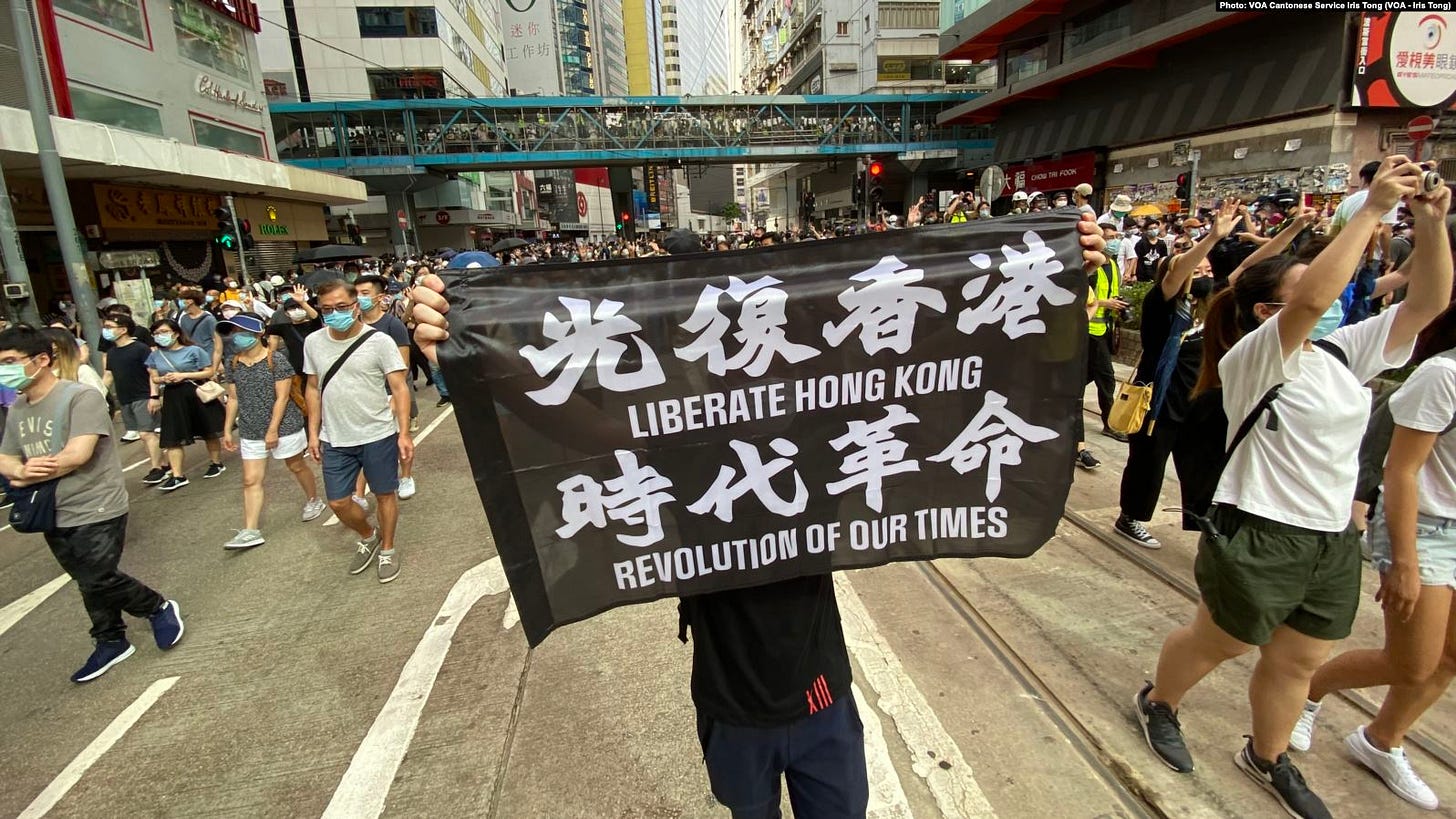 Hong Kong has long been a refuge for free speech, but its new national security law, which was passed by Chinese legislators Tuesday, all but ensures that its best days are in the past. I thought NPR's Emily Feng described the law in the simplest terms:
Broadly, the law criminalizes four types of activity — secession, subversion of state power, terrorism and collusion with foreign entities — carrying a penalty of up to life in prison.
Here's an overview of some of the most shocking aspects of this law:
And while there is still a lot that's vague and unknown about the law, including how it'll be applied to citizens and those abroad, enforcement has begun in Hong Kong. Bloomberg reported that 10 pro-democracy protesters have already been arrested—police even swabbed them for DNA and searched their homes. While police have swabbed for DNA in the past, "it was typically only used in assault or drug cases," Janet Pang, a lawyer for some of the arrested protesters, told Bloomberg. DNA testing also threatens the anonymity of those protesting for change in the semi-autonomous region—and helps Beijing crack down on dissidents.
Since the internet in Hong Kong is open unlike that in mainland China, the new law also raises significant questions for online media and social platforms. Facebook said on Monday it would stop processing Hong Kong government requests for user data, at least as the company reviews the new law and its implications. The messaging service Telegram said it would do the same Sunday. And TikTok, which has sought to distance itself from its own ties to Beijing, announced it'd pull out of the App Store and Google Play marketplaces entirely because of the new law.
Late Monday, new rules were announced that gave "the police powers to take down internet posts and punish internet companies that do not comply with data requests," The New York Times reported, the ramifications of which are both frightening and illiberal:
"The government said that if an internet company failed to comply with a court order to turn over data in cases related to national security, it could be fined almost $13,000 and an employee could face six months in prison. If a person is ordered to remove a post and he or she refuses, that person can face a jail sentence of one year. A separate provision also gave the police wide powers to order the deletion of internet posts that threaten national security. How widely the rules will be enforced remains unclear."
This news is grim, frightening, and a tragedy of modern times—the push for democratic norms brings an equal but opposite reflex towards the most autocratic, surveillance-prone tendencies of Beijing.
One hopeful human story came from The Washington Post Magazine, to which I have contributed frequently in recent years. The writer Jeff Stein writes about the Hong Kong Foreign Correspondents' Club, the press hub in the city, which has served as an oasis if not a symbol of press freedom amid the protests of the past year.
Stein writes that Beijing's tightening grip "would bring the club full circle to its ramshackle days during World War II in Chungking (now Chongqing), when it was less a club than a band of brothers in search of warm bunks, decent whiskey and straight answers from Chinese Nationalist leader Chiang Kai-shek."
Bloomberg News editor Jodi Schneider, who leads the club, told Stein recently that things haven't been noticeably different in recent weeks, though the pandemic has obviously changed protocol. "It's still kind of a port in the storm, a safe place," she told Stein.
As another red hot summer rages in Hong Kong, and a new law rings in an open season for the police to crack down on protesters, citizen journalists and professional members of the press, Hong Kong is again taking center stage.
When political regimes flex their muscles, the work of journalists like Schneider becomes ever more crucial—but it also becomes much more dangerous. Hong Kong's days of being an oasis for free expression might just be a thing of the past.
---
Hey there! Do you love Pressing and want to support it? If you are able and interested, please consider a paid subscription here! I produce this letter on my own dime and in my own time. (Disclaimer: I have not been able to produce paid-only posts in a while, but hope to resume before long)
---
Elsewhere Around the World
---
Across the Country
---
Building on my work…
Since I produced a spreadsheet documenting 307 press freedom abuses during the recent Black Lives Matter protests, a number of people have reached out with their own riffs on, visualizations, and analyses of the data.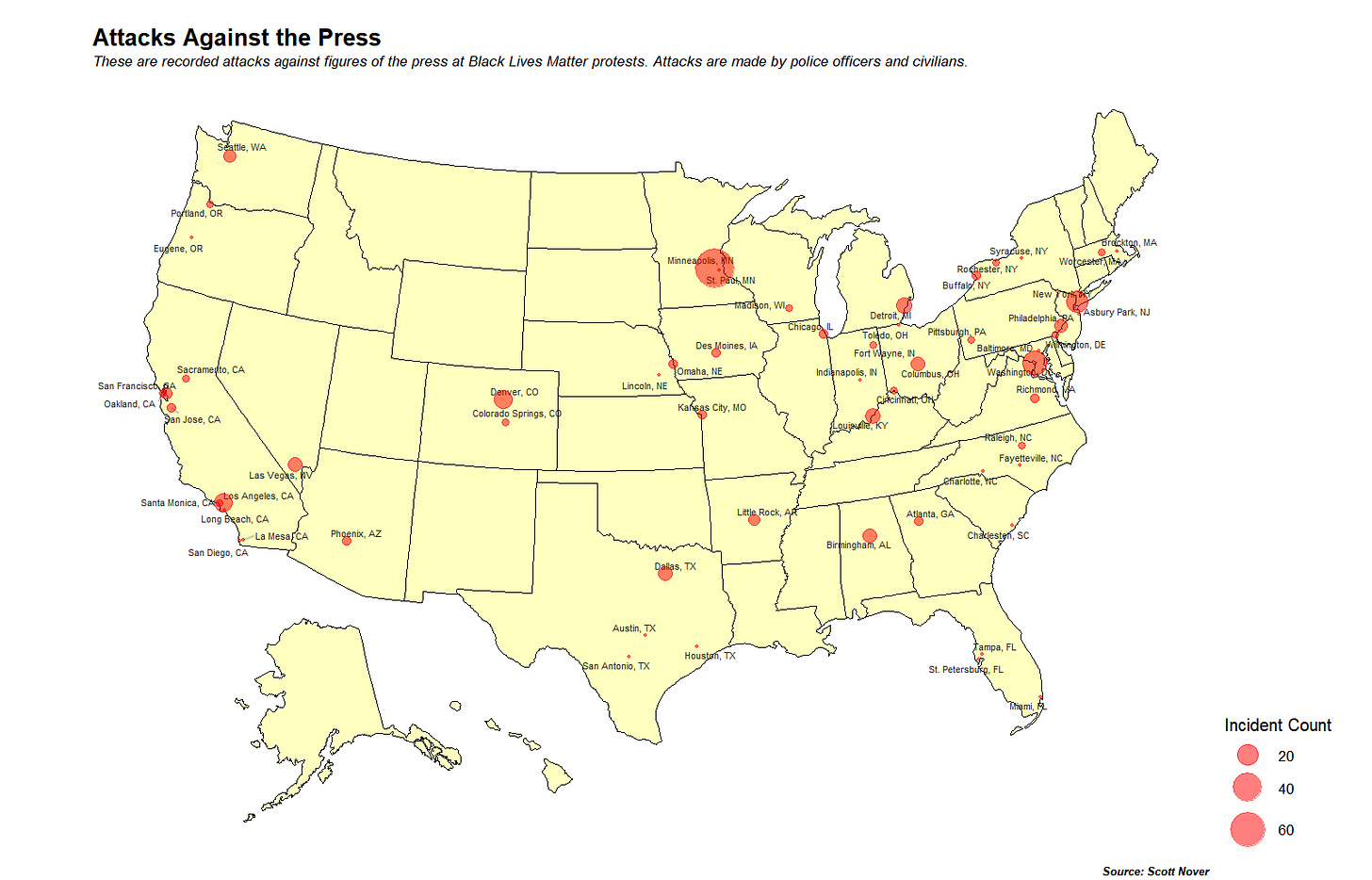 ---
Technocracy
---
Thanks for reading Pressing today and always. Like what you read and want to support me? Consider a paid subscription here. I'll see you next Tuesday! Send tips and feedback to sgnover@gmail.com.