The Voice of Trump's America
Editorially independent U.S. broadcasters might get Trumpy.
I'm Scott Nover. Welcome back to Pressing, a newsletter about press freedom. If you haven't yet subscribed, you can do so here and receive this letter in your inbox every Tuesday morning.
This is the 45th issue of Pressing and it's great to have you with me. Please send me feedback, thoughts, suggestions, and tips at sgnover@gmail.com.
---
The Voice of Trump's America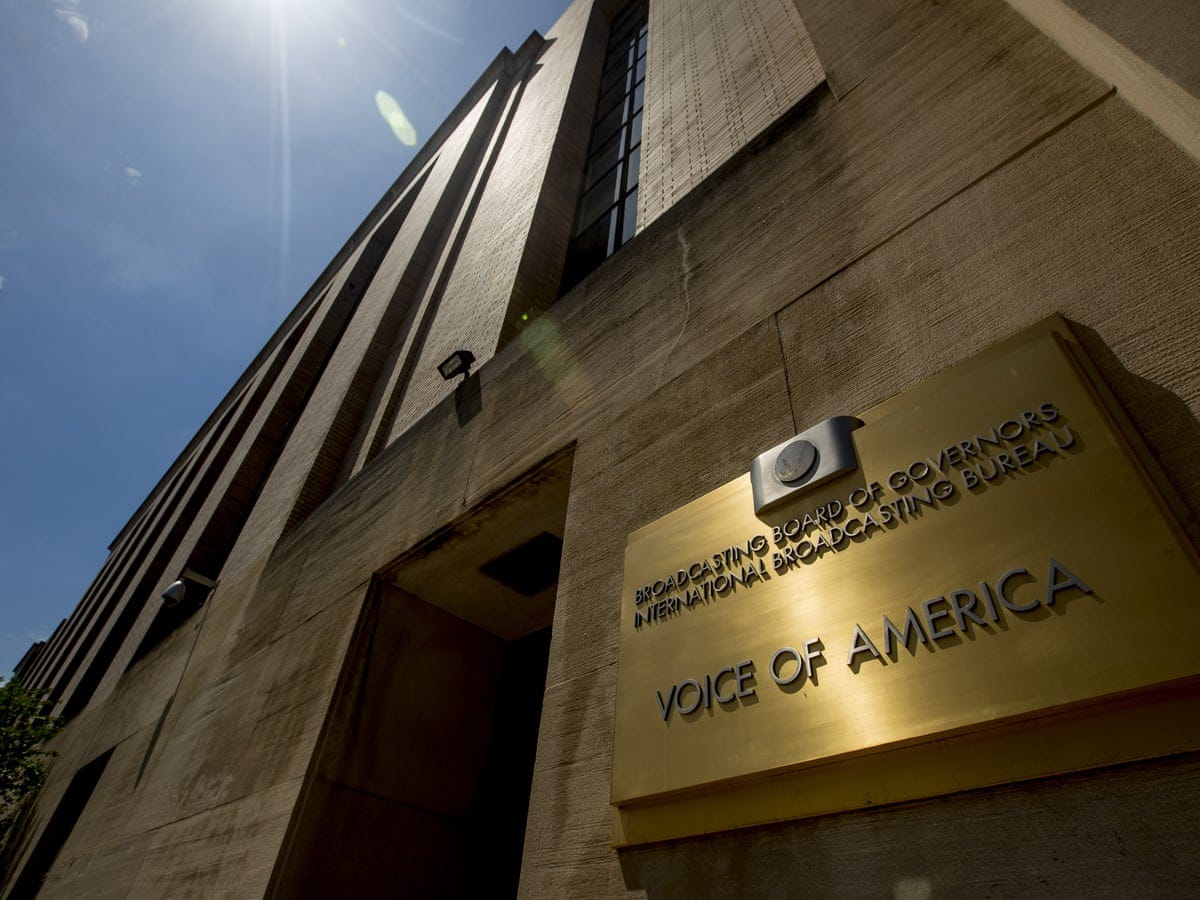 In early May, I wrote that Voice of America's editorial independence was under threat. The U.S. public broadcaster—long a tool for American soft power, our nonmilitary influence abroad—has long been editorially independent, run by top journalists unafraid to report on the government that signs their paychecks.
The Trump administration began a broadside of Voice of America in late April, bogusly accusing it of advancing the interests of the Chinese government.
"American taxpayers—paying for China's very own propaganda, via the U.S. Government funded Voice of America! DISGRACE!!" tweeted White House deputy chief of staff for communications Dan Scavino. VOA reporter Steve Herman was also banned from Air Force Two for tweeting out information sent from the Vice President's office.
From there, things devolved.
In early June, Michael Pack, a conservative filmmaker nominated by President Donald Trump to be the new CEO of the U.S. Agency for Global Media, the government broadcasting agency that oversees VOA and other state-owned outlets, was confirmed by the Senate.
On June 15, VOA director Amanda Bennett and deputy director Sandy Sugawara resigned without giving a direct reason why, but had previously pushed back on the Trump White House's attacks. In a letter to staff, the two departing journalists wrote:
"Nothing about you, your passion, your mission or your integrity changes. Michael Pack swore before Congress to respect and honor the firewall that guarantees V.O.A.'s independence, which in turn plays the single most important role in the stunning trust our audiences around the world have in us."
On June 17, Pack fired Bay Fang, Jamie Fly, and Alberto Fernandez who oversee Radio Free Asia, Radio Liberty/Radio Free Europe, and the Middle East Broadcasting Network respectively. He also froze all agency spending and replaced the boards of each outlet with a committee of six people, including himself, who, as Anne Applebaum wrote in The Atlantic, "appear to have been selected for no discernible reason beyond ideological purity." One former government official told CNN this was a "Wednesday night massacre."
Rep. Eliot Engel (D-NY) said he's concerned that Pack will bust the firewall that has long existed between the government and the editorial independence of these newsrooms and pervert them to spread propaganda:
"USAGM's mission is 'to inform, engage, and connect people around the world in support of freedom and democracy' — not to be a mouthpiece for the president in the run up to an election ... And Mr. Pack needs to understand that USAGM is not the Ministry of Information."
Pack has these outlets in his grip. There's no way around it.
VOA and its peers represent a long tradition of spreading American and democratic values in the best way our country knows how: by providing accurate information and news to Americans and those around the world in countries less free than ours. Applebaum wrote in The Atlantic:
Compared with the cost of a nuclear arsenal, these tactics were dirt cheap—and yet they probably did more to undermine communist ideology than all of the U.S. military put together. Over time, the American-backed broadcasters in Europe and Russia built up the trust that helped break the spell of communism and bring down the regimes.
Without their editorial independence, these outlets become propaganda machines for a political regime that has already distorted America's perception abroad, depleted America's diplomatic corps, and further polarized our country. It's a scary day.
---
Hey there! Do you love Pressing and want to support it? If you are able and interested, please consider a paid subscription here! I produce this letter on my own dime and in my own time. (Disclaimer: I have not been able to produce paid-only posts in a while, but hope to resume before long)
---
What Else Is New?
---
Fox News' Bizarre Legal Defense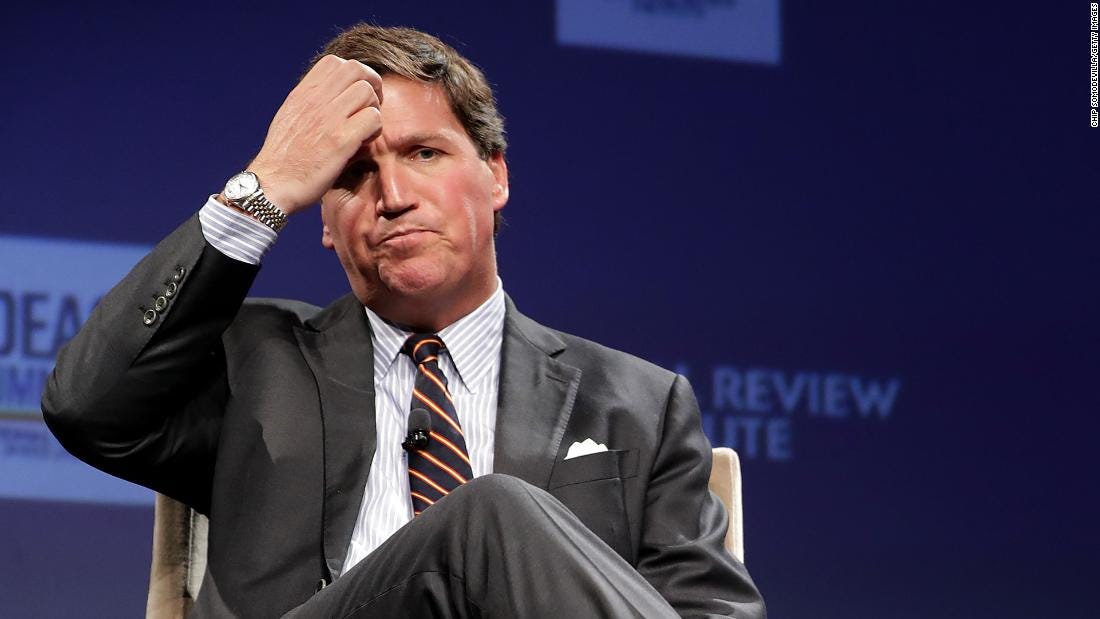 Back in December 2019, Karen McDougal sued Fox News for slander after primetime host Tucker Carlson said she "extorted" Donald Trump. You may remember McDougal, the former Playboy model, for making headlines in recent years for an alleged 2006-2007 affair with Trump. She even apologized to Melania Trump in a CNN interview in 2018. Carlson said on air on Dec. 10, 2018:
"Two women approached Donald Trump and threatened to ruin his career and humiliate his family if he doesn't give them money. Now that sounds like a classic case of extortion."
McDougal, a public figure, has a tough standard to prove. The actual malice standard requires that plaintiffs prove that defendants spoke with knowing falsity and reckless disregard for the truth
But, as Ashley Cullins reported this week in The Hollywood Reporter, Fox is defending itself with a bizarre argument—that Carlson is not expected to provide accurate information. "What we're talking about here, it's not the front page of The New York Times," Fox attorney Erin Murphy said in federal court. "It's Tucker Carlson Tonight, which is a commentary show."
Additionally, writing in Courthouse News, Adam Klasfeld made an interesting point about a separate defamation case:
In trying to dismiss the lawsuit, Fox News could encounter an ironic hurdle: Sarah Palin, the folksy Alaskan politician who became a pundit for the network, sued The New York Times over its editorial tying her to a trend of partisan rhetoric fueling mass shootings. 

The Second Circuit's revival of that defamation case could now undermine Fox's argument that Carlson's commentary is protected opinion, if the court finds it makes false claims with reckless disregard to the facts.
Legally, we'll have to wait and see how District Judge Mary Kay Vyskocil of the Southern District of New York rules on the matter.
Ethically, I think Fox's argument speaks for itself.
---
Technocracy
---
Thanks for reading Pressing today and always. Like what you read and want to support me? Consider a paid subscription here. I'll see you next Tuesday! Send tips and feedback to sgnover@gmail.com.