Trickle Down Trumpiness
And other tales from America's press freedom crypt
I'm Scott Nover. Welcome back to Pressing, a newsletter about press freedom. If you haven't yet subscribed, you can do so here and receive this letter in your inbox every Tuesday morning as well as special features for paid subscribers.
This is the 37th issue of Pressing and it's great to have you with me. Please send me feedback, thoughts, suggestions, and tips at sgnover@gmail.com.
---
Trump vs. the Press, Part I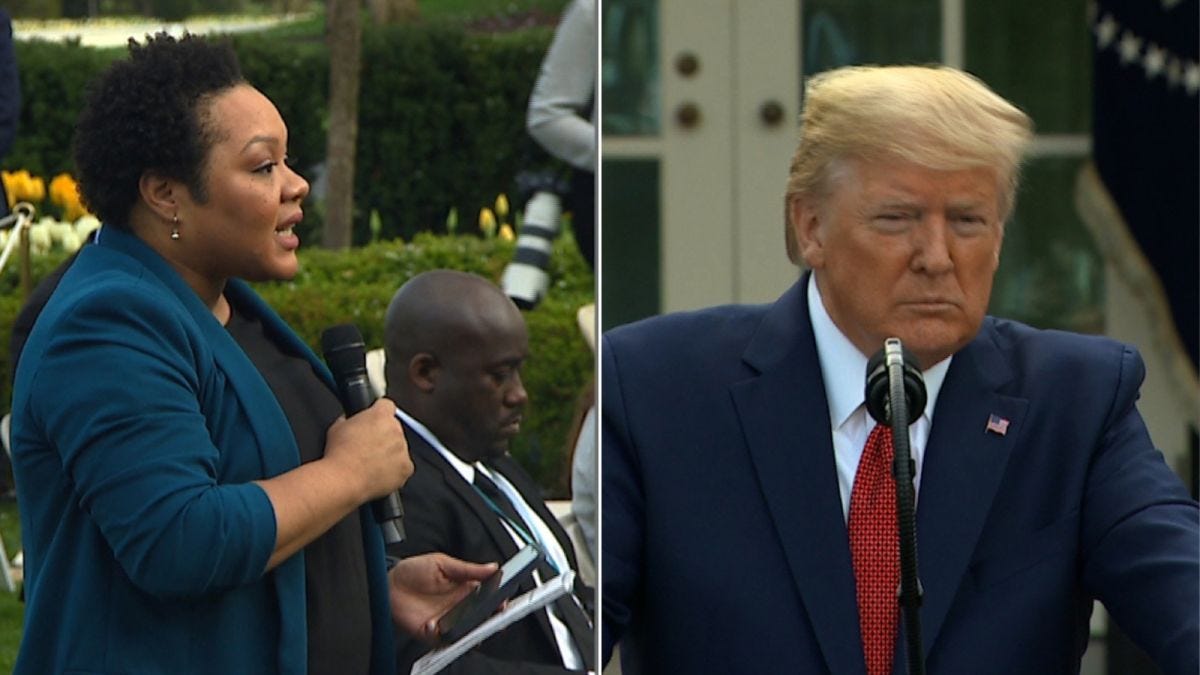 PBS NewsHour White House correspondent Yamiche Alcindor has been the consistent target of President Donald Trump's verbal abuse. At a recent briefing, Trump said he found Alcindor's question "threatening," but really liked the "nice" question from friendly right-wing mouthpiece One America News Network.
The "nice" question, from OANN correspondent Jenn Pellegrino was about Trump's high "ratings" and the television networks' deliberation over whether or not to air the briefings live. (Very meta—and sycophantic!) Compare with Alcindor, who was berated just for quoting Trump's comments back to him.
"Come on, come on," Trump said, interrupting Alcindor. "Why don't you people — why don't you act in a little more positive? It's always 'get ya, get ya, get ya.' And you know what? That's why nobody trusts the media anymore." He then insulted her because she no longer works at The New York Times and said, "Don't be threatening."
In an act of press corps solidarity, CNN correspondent Jeremy Diamond gave the microphone back to Alcindor after Trump skipped her follow-up question during a briefing the other day.
"Hard questions aren't illegitimate questions and they shouldn't be shut down," Diamond tweeted. "Let's keep up the solidarity in the White House press corps."
---
Do you love Pressing and want to support it? If you are able and interested, please consider a paid subscription here! I produce this letter on my own dime and in my own time.
---
---
Trump vs. the Press, Part II
The nonprofit PEN America filed a lawsuit in October 2018 against President Trump for "using his power to punish and intimidate The Washington Post, CNN, NBC, the White House press corps and others who cover his administration."
Last Tuesday, a federal judge in New York ruled the suit may proceed on limited claims, particularly the potential First Amendment violations over his revoking press credentials for journalists including CNN's Jim Acosta and Playboy's Brian Karem.
If you've read this newsletter since its inception, you've read a lot about Acosta and Karem. Here's the gist of why Trump couldn't get rid of them: 1. When the government opens a public forum like the White House briefing, it cannot discriminate about who can cover it, 2. in order to deny a security clearance or rescind a press credential, the government must grant due process to the reporter in question.
So what's next?
From PEN America: "The case will now move into discovery, where plaintiffs will be able to obtain documents from the government to substantiate its claims that President Trump has sought to use the regulatory state to punish media he does not like."
---
Trickle Down Trumpiness
Florida Gov. Ron DeSantis banned Mary Ellen Klas, a Tallahassee-based reporter for both the Miami Herald and the Tampa Bay Times from his coronavirus briefing Saturday. A state spokesperson told her she could watch the briefing on a public access livestream. She had previously requested that briefings be held via videoconference for safety concerns.
"I asked for social distancing. I didn't ask to be excluded," she said.
The Miami Herald's editorial board chastised the governor. "DeSantis, a lawyer, should also know a First Amendment violation when he sees one," the board wrote. "A 2015 judicial ruling by the Seventh Circuit found that, 'A public official who tries to shut down an avenue of expression of ideas and opinions through actual or threatened imposition of government power or sanction is violating the First Amendment.'"
Sound familiar? When Trump treats reporters like garbage, leaders around the country follow suit.
---
What Else Is New?
---
Your Resource for All Things India
Just a quick plug: My best friend Aman Thakker, an adjunct fellow at CSIS, has a fantastic newsletter called Indialogue that just re-launched. It's your one-stop shop for all things India. Check it out here and subscribe!
---
Thanks for reading Pressing today and always. Like what you read and want to support me? Consider a paid subscription here. I'll see you next Tuesday! Send tips and feedback to sgnover@gmail.com.