Trouble for American Journalists
That and more in the latest edition of Pressing.
I'm Scott Nover. Welcome back to Pressing, a newsletter about press freedom. If you haven't yet subscribed, you can do so here and receive this letter in your inbox every Tuesday morning as well as special features for paid subscribers.
This is the 32nd issue of Pressing and it's great to have you with me. Please send me feedback, thoughts, suggestions, and tips at sgnover@gmail.com.
---
The Latest from Austin Tice's Mother
Marc and Debra Tice know their son Austin is alive and they know he is being held in Syria. While they have expressed confidence in the Trump administration's ability and willingness to bring Austin — a journalist who has been missing for more than seven years — home to the United States, they think someone in the administration is getting in the way of these efforts.
"Apparently, somewhere in the chain, there is a senior U.S. government official who is hesitating or stalling," Debra Tice told reporters yesterday. "There is no possible way for me to understand why anyone would defy the president's will and choose to leave our beloved son, who put his life on the line serving this country three tours as a Marine Corps officer, waiting in captivity instead of taking the necessary steps to get this critical discussion underway."
"Whoever you are, stand down or stand up for Austin," she added.
Debra Tice would not say more out of concern for her son's safety and the diplomatic negotiations under way to bring him home. Still, she maintains that she and her husband are "reasonably hopeful" that Austin will be released soon.
On April 29, 2020, the Tice family will host the second annual "Night Out for Austin Tice," where participating restaurants contribute proceeds to the effort to free Austin.
---
What's Happening to Glenn Greenwald?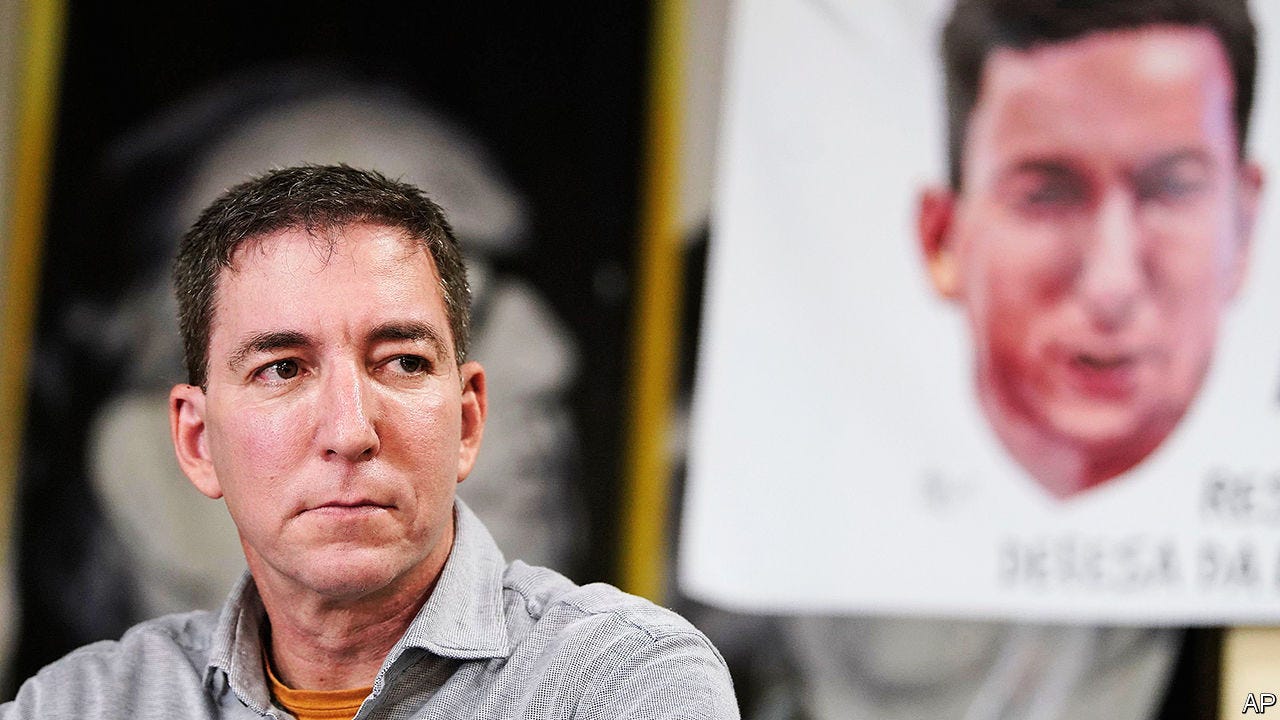 Last Tuesday, the Brazilian government filed charges against American journalist Glenn Greenwald for "cybercrimes," a bogus charge that's been universally decried by press advocates in the days since.
In my Friday essay, I explained what's happening and why.
Subscribe to the paid edition of Pressing to read this essay and get more exclusive updates in your inbox.
---
My Trip to CPJ
Last Wednesday, I went up to New York to meet with the fine folks at the Committee to Protect Journalists (CPJ). I presented to CPJ staff about Pressing, took questions, and exchanged ideas about newsletter writing. If you haven't already, you can subscribe to The Torch, their free weekly newsletter, by clicking here. Thanks Ahmed Zidan and the whole CPJ team for hosting me last week!
---
Philip Jacobson Released from Indonesian Prison
Last week, American environmental reporter Philip Jacobson, who works for nonprofit news site Mongabay, was detained in Indonesia for allegedly violating his visa. He was released Saturday after three days in prison. Originally, he faced up to five years in prison on criminal charges.
"Indonesia requires visiting foreign journalists to obtain a journalist visa, a cumbersome and lengthy process that allows the authorities to question an applicant's reporting plan, deny a visa without explanation or take no action at all," a New York Times report explained.
The Indonesian government maintains that they did not detain Jacobson as a consequence of his journalism, but press freedom advocates have raised concerns. "Phillip Jacobson's totally disproportionate arrest clearly amounts to intimidation," said Daniel Bastard of Reporter's Without Borders in a statement. "Immigration officials have massively overstepped their powers."
More on this:
---
Do you love Pressing and want to support it? Do you want to read a little more every week? If you are able and interested, please consider a paid subscription here!
---
Mary Louise Kelly vs. Mike Pompeo
Few reporters are as respected as NPR's Mary Louise Kelly. U.S. Secretary of State Mike Pompeo should've known that before smearing her in public.
According to Kelly, Pompeo was enraged that she asked him whether he owed Ambassador Marie Yovanovitch an apology. Pompeo claimed that he never agreed to discuss Ukraine in the interview—just Iran. "I confirmed with your staff… last night that I would talk about Iran and Ukraine," Kelly pushed back, according to NPR's published transcript. (The Washington Post's Paul Farhi acquired the emails that supported Kelly's version of the story.)
Afterward, Pompeo allegedly berated Kelly and cursed at her. He also implored her to point to Ukraine on a map, which she successfully did. Then the Secretary released a bizarre public statement, complained that this tirade was off the record, a pact to which Kelly never agreed. He also claimed that Kelly pointed to Bangladesh on the map and not to Ukraine. (Kelly has a master's in European Studies from Cambridge.) Here's the statement:

Last night, the State Department removed NPR diplomatic correspondent Michele Kelemen from Pompeo's plane. She was the scheduled radio pooler — a rotational position — for his European trip. This move is being seen as retribution for Kelly going public about Pompeo's behavior.
---
Thanks for reading Pressing today and always. Like what you read and want to support me? Consider a paid membership here. Otherwise, I'll see you next Tuesday! Send tips and feedback to sgnover@gmail.com.