Erdogan, Amal Clooney, and Cartoon Trump
... walk into a bar. Press freedom news from Youngstown, Istanbul, and elsewhere in this week's edition of Pressing.
I'm Scott Nover. Welcome back to Pressing, a newsletter about press freedom. If you haven't yet subscribed, you can do so here and receive this letter in your inbox every Tuesday morning.
This is the fifth issue of Pressing. Last week I was in the United Kingdom, so I swapped out my normal letter for a quick personal essay on journalism and the migrant crisis on the U.S.-Mexico border. You can read it here. Anyway, please keep the feedback coming and send thoughts, suggestions, and tips my way at sgnover@gmail.com. Let's jump in.

What Remains of the Turkish Press
Unfortunately, this entire newsletter could be filled — week after week — with the press freedom violations of the Erdogan regime in Turkey. (In fact, Özgür Öğret literally writes a weekly update on Turkey for the Committee to Protect Journalists.) But, Suzy Hansen wrote a phenomenal piece for Columbia Journalism Review about the remnants of Turkey's dismantled corporate media system, which is virtually controlled by Erdogan. Read an excerpt below and then read the whole thing here:
The Murdochs, especially in the age of Donald Trump, are kingmakers; Erdoğan would never permit anyone else to have that much influence. Instead, the Demirören family has become something far stranger, and far more emblematic of the Erdoğan era. As an academic (who asked not to be named because of a pending court case) explained to me, "The Demirörens did not get into the media business on their own—they found themselves compelled to get into it." In essence, the Demirörens work for Erdoğan. In Turkey, the only kingmaker is the king.
More from CJR's "Global Issue": Reverberations of Trump's 'fake news' cries (Amanda Darrach); The Problem with 'Fixers' (Priyanka Borpujari); On the Indignity of Crisis Photos (Vanessa Okoth-Obbo); The Violence Beat in Mexico (Stephania Taladrid); Venezuela's News Abyss (Paula Ramón); and a must-read from The Rappler's Maria Ressa Targeted by Duterte.
Speaking of Maria Ressa… Amal Clooney will be representing her, CNN reported Monday.
---
Headlines Around the World
---
An Obituary for Democracy in Youngstown, Ohio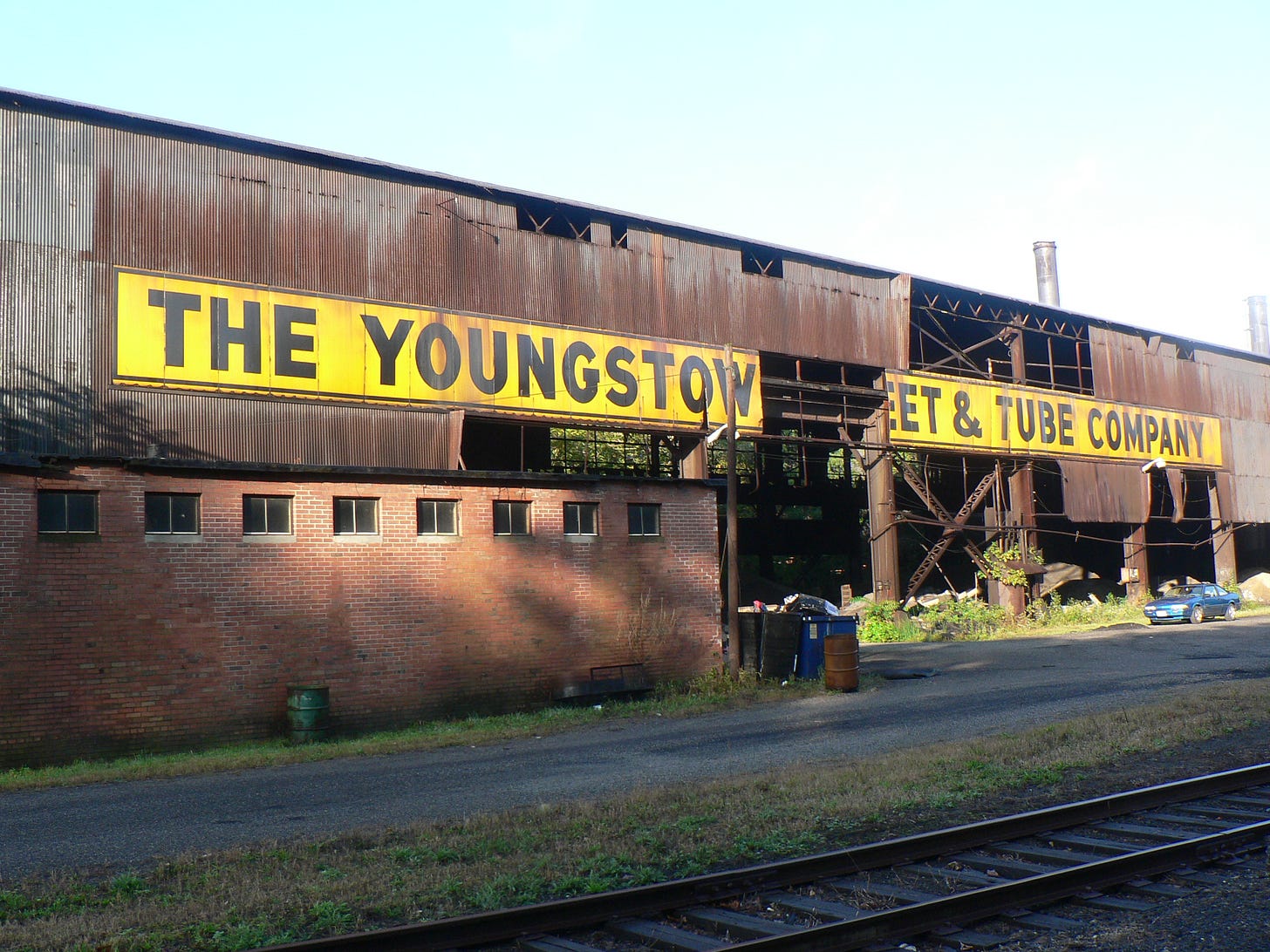 The Youngstown Vindicator, the 150-year-old daily newspaper of record in Youngstown, Ohio will close on August 31, 2019. Margaret Sullivan, the media columnist at the Washington Post, reported from Youngstown:
"With the Vindicator's closing, Youngstown will become an unfortunate first: a good-size city with no daily newspaper of its own… Given the dire state of the industry, it certainly will not be the last. More likely, this will look like the tumbling of the first domino, with the situation repeating across the country — especially when the next economic downturn wipes out what's left of the print advertising that once was the lifeblood of local newspapers."
My take: The closure of local newspapers around the country — and beyond that, the ubiquitous shrinking of local newspaper staffs — leaves gaping holes in a vital accountability apparatus that the United States and its localities have relied upon. When journalists aren't present to report the news, or keep a watchful eye, citizens suffer. This is a press freedom issue.
The money quote in Margaret's piece comes from Syracuse University associate dean Joel Kaplan:
"No one in that community will be covering, on a regular basis, school board meetings, city council meetings, the cops and the courts. Democracy, as we know it, is about to die in Youngstown.
---
If you're not already subscribed to Pressing, click here to receive it weekly:
---
Press Secretary Faces Charges for Violating Open Records Law
Kasim Reed hasn't been Mayor of Atlanta since January 2018. But, last week, his former press secretary, Jenna Garland, went to court: she's facing charges for allegedly failing to comply to Georgia's open records law.
"It is a rare predicament for an American government official, and the allegations will do little to allay investigative reporters' worst suspicions about the spirit with which bureaucrats receive their nagging, but legal, records requests," The New York Times writes. Read more here:
"The two charges she faces are misdemeanors, carrying at most a total fine of $3,500. But they are milestones, representing the first time in Georgia history that any public official has been criminally charged under the state's open records law."
---
Don't Mess With My Cartoons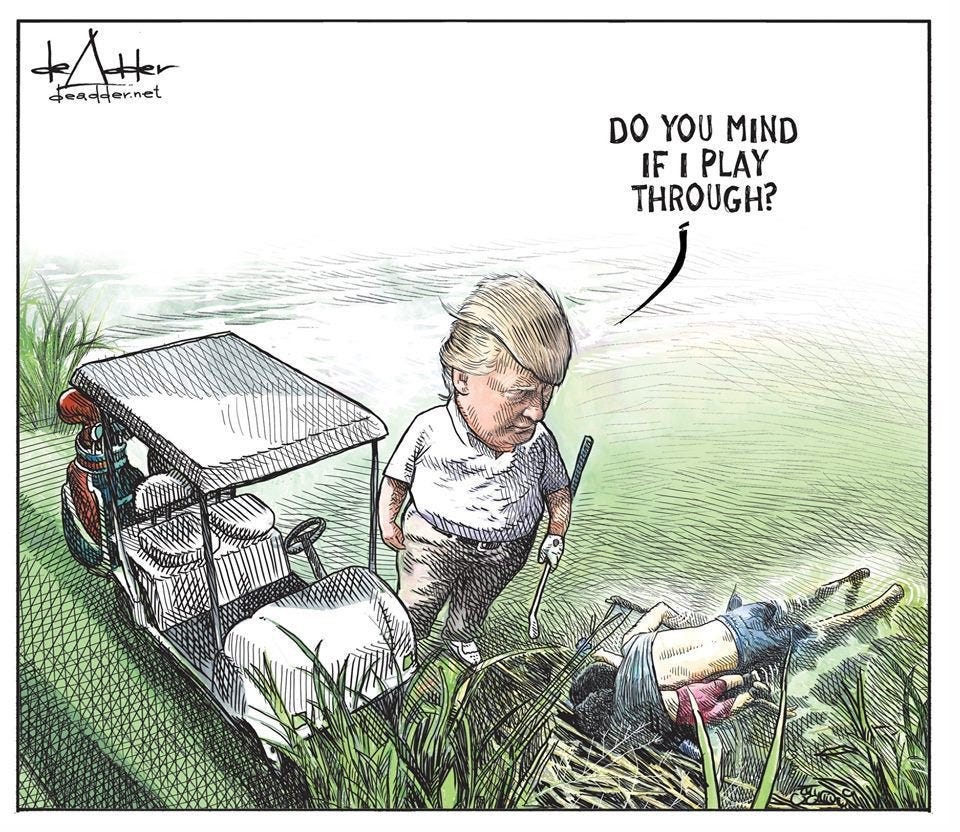 A Canadian cartoonist, Michael de Adder, had his contract terminated by a publishing house for portraying President Trump playing golf over the bodies of two dead migrants, asking "Do you mind if I play through?" The migrants were Óscar Alberto Martínez Ramírez and his two-year-old daughter Valeria, as photographed in the Rio Grande by the AP photographer Julia de Luc. (I wrote an essay about this last week in lieu of the normal newsletter.)
John Diaz wrote that "nothing lampoons quite like an editorial cartoon" in his column for The San Francisco Chronicle. He talked to four cartoonists to ask if de Adder crossed a line with his cartoon. "You can probably anticipate the answer from all four cartoonists: no."
"What line, anyway?" asked [Signe] Wilkinson, based in the Philadelphia newspapers. "People dying not quite over the border line is over the line to me."
---
That's all for this week. Thanks for reading and I'll see you next Tuesday! Send tips and feedback to sgnover@gmail.com.