What to Make of Bernie's Press Bashing
Are we headed to a general election where both candidates lambast the press?
I'm Scott Nover. Welcome back to Pressing, a newsletter about press freedom. If you haven't yet subscribed, you can do so here and receive this letter in your inbox every Tuesday morning as well as special features for paid subscribers.
This is the 33rd issue of Pressing and it's great to have you with me. Please send me feedback, thoughts, suggestions, and tips at sgnover@gmail.com.
Bernie Sanders Rises: Could Press Bashing Be the Unifying Factor in the General Election?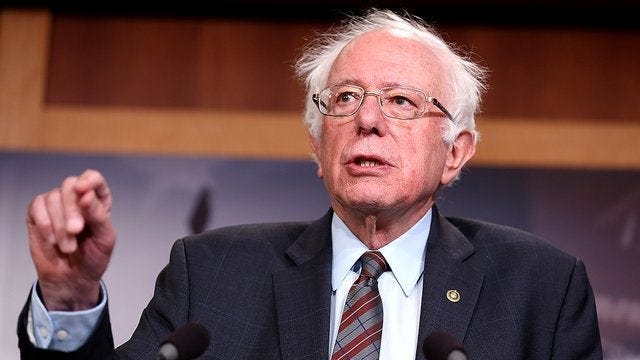 In most ways, Bernie Sanders is nothing like Donald Trump. They hold diametrically opposed ideologies (if Trump has an ideology aside from narcissism). Sanders has had decades of government experience while Trump had none when he became president. Sanders has spent his entire career advocating for a strong welfare state while Trump has slashed tax rates for corporations. Off the top of my head I count three ways they overlap: 1.) they are New York born and bred, and grew up around the same time 2.) they have a populist appeal (whether or not you believe Trump embodies that appeal is a separate issue), and 3) they frequently bash the press.
This third piece is what interests me—and upsets me. And while one press-bashing president has given me more than enough fodder to write about for the last three years, we're staring down the barrel at something altogether different: A general election where both candidates believe that the American press corps is a bad-faith actor. That scares me.
Trump's attacks on the press are nothing new. You know his greatest hits, namely "enemy of the people" and "fake news" as well as specific jabs at specific journalists. His all-out war on facts and journalism have posed a unique threat to journalists in the United States—and sent a signal to foreign leaders that it's okay to belittle press freedom.
So I feel uneasy fully comparing the two. They're not the same. And Sanders' press bashing is different. He often rails on the "corporate media" and whines about elite control of the media. He's insinuated that Jeff Bezos controls The Washington Post and he's received bad press because of his political critiques of Amazon. Washington Post executive editor Marty Baron shot back at this insinuation in August:
"Sen. Sanders is a member of a large club of politicians — of every ideology — who complain about their coverage," Baron said. "Contrary to the conspiracy theory the senator seems to favor, Jeff Bezos allows our newsroom to operate with full independence, as our reporters and editors can attest."
Much has been made in left-wing media criticism about the negative press coverage that Sanders received. Here's The Intercept on the "media blackout" that "helped sink" his 2016 run. Here's The New Republic and In These Times on MSNBC's slant against Sanders in the Democratic primary. And the Associated Press documented that Bernie's frustrations with the press have led him to "create his own"—relying on a web show, a podcast and a newsletter of his campaign's own design to get the word out.
Sanders' personal grievances with the press are long-standing and well-documented. And they're probably not going to change any time soon. Should Sanders secure the Democratic nomination, I expect that Sanders may tone down his media criticisms and paint himself as a champion of the press and free speech—an easy task relative to Trump.
"The corporate media" is comprised of many different companies with corporate interests and it—if you can call it one monolithic thing—is well deserving of thoughtful, measured criticism. But while I think Sanders is thoughtful about a lot of different policy issues, I don't think his media criticisms do our democracy—or the news business—any good. For now, I just worry about a general election where neither of the two major candidates understand that the journalists covering them are doing so on behalf of the American public.
In the Chicago Sun-Times Monday, columnist Lynn Sweet summed it up well:
"I am not comparing or equating Sanders to President Donald Trump and his war on facts. I am throwing a spotlight on a Sanders problem area. I get that Sanders uses the media as a foil. I get he has grievances stemming from reasonable beefs about his coverage. But that's no excuse for Sanders' drive to try to weaken the credibility of the U.S. press."
Amen to that.
---
Do you love Pressing and want to support it? Do you want to read a little more every week? If you are able and interested, please consider a paid subscription here!
---
About Big Tech
---
Violence in India
As President Trump visits India, violence has broken out in New Delhi surrounding India's divisive Citizenship Amendment Act, which "fast-tracks citizenship for non-Muslim minorities from select countries." So far, CNN reports that 9 are dead and 100 injured in the clashes. NDTV executive editor tweeted this morning the following:
And another reporter named Akash has been shot. (Graphic image here.)
---
Around the World
Hackers and Whistleblowers
In Press Freedom Advocacy
---
Thanks for reading Pressing today and always. Like what you read and want to support me? Consider a paid membership here. Otherwise, I'll see you next Tuesday! Send tips and feedback to sgnover@gmail.com.