A SLAPP to the Face
Plus, Donald Trump and Imran Khan ignore press freedom. What else is new?
I'm Scott Nover. Welcome back to Pressing, a newsletter about press freedom. If you haven't yet subscribed, you can do so here and receive this letter in your inbox every Tuesday morning.
This is the seventh issue of Pressing and we've got a lot of news from the U.S. and around the world. Please keep the feedback coming and send thoughts, suggestions, and tips my way at sgnover@gmail.com. Let's jump in.
Trump Mocks Calls to Raise Press Freedom with Pakistani Prime Minister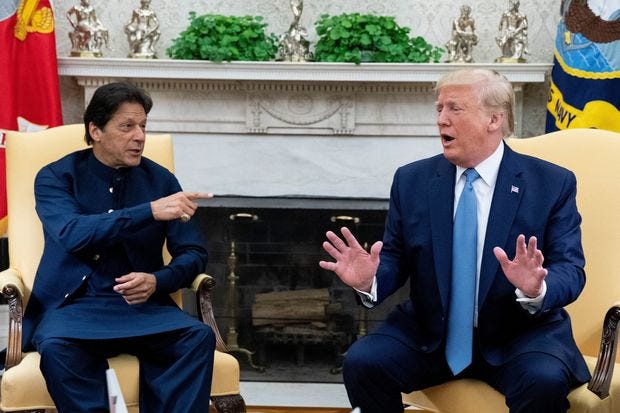 Ahead of Pakistani Prime Minister Imran Khan's visit to the White House Monday, The Washington Post editorial board wrote that President Donald Trump needs to bring up press freedom concerns under Khan's government. The Post cited the case of Cyril Almeida, the Pakistani journalist charged with treason in September, as an example of how "press criticism of the army, the courts and the government has been muffled by systematic intimidation." The column concludes on a not-so-hopeful note:
Mr. Trump's repeated condemnations of U.S. media don't leave much hope that he will step up for free expression in Pakistan. But he or his aides ought to be pressing the subject with Mr. Khan. There's not much chance that chronically fraught U.S.-Pakistani relations can improve unless civilian-led democracy grows stronger in Islamabad. And for now, it is headed in the wrong direction.
While it's unclear if President Trump brought raised the issue in his bilateral meeting with Prime Minister Khan on Monday, he certainly did not bring up press freedom in his public remarks ahead of the meeting.
However, in a Q&A following those remarks, Voice of America journalist Nadeem Yaqub had the following exchange with the two world leaders when he tried to press the issue. You'll see that Trump naturally made it about himself and made a mockery of the reporter's serious question:
Q: … PM, question to you regarding the freedom of the press in Pakistan: There are a lot of curbs on the freedom of press, on the media, on the journalists. Can you comment on that?

PRESIDENT TRUMP: Go ahead, please.

PRIME MINISTER KHAN: Pakistan press — to scorn Pakistan press as if there's curbs on it.  Pakistan has one of the freest presses in the world.  All you have to do is — since I've been the Prime Minister in the last 10 months — I mean, the criticism I have received from my own press: unprecedented.

So to say that there are curbs on Pakistan press is a joke.

Q: Mr. Prime Minister, I —

PRESIDENT TRUMP: When you say "unprecedented," it can't —

Q: Mr. Prime Minister —

PRESIDENT TRUMP: Wait a minute.  Wait, wait, wait. There's no way you're treated worse than I am. (Laughter.)

PRIME MINISTER KHAN: (Laughs.) It's worse than you.

PRESIDENT TRUMP: I mean, that can't be.
Additionally, the Committee to Protect Journalists is reporting that the popular Pakistani news network, Geo News, which is privately owned, has been "forced off the air or had its channel number abruptly changed in many parts of the country" as of Sunday.
---
If you're not already subscribed to Pressing, click here to receive it weekly:
---
Around the States
---
A SLAPP to the Face
After she received numerous civil libel lawsuits relating to her groundbreaking reporting on the regulation of digital technology, Observer reporter Carole Cadwalladr — who was one of first reporters on the Facebook-Cambridge Analytica scandal — is being defended by her editor, who has penned an open letter to top British officials deriding SLAPPs. SLAPPs, or strategic lawsuits against public participation, are lawsuits designed, above all, to silence and intimidate those exercising free speech. They are typically levied by those wealthy enough to do so. British billionaire Arron Banks, who sued the journalist, has also threatened legal action against Netflix for its new documentary The Great Hack, which highlights Cadwalladr's reporting on Facebook and Cambridge Analytica. The open letter by Observer editor Paul Webster and others reads:
The legal claim against Ms Cadwalladr, issued on 12 July by lawyers acting for Arron Banks, is another example of a wealthy individual appearing to abuse the law in an attempt to silence a journalist and distract from these issues being discussed by politicians, the media and the public at a critical time in the life of our democracy.
The open letter urges Jeremy Hunt, the foreign secretary, and Jeremy Wright, the culture secretary to consider legislation to prevent SLAPPs, which Webster writes have been rampant across Europe.
In the United States, select states have anti-SLAPP statutes that often allow for the lawsuit to be thrown out if deemed predatory by a judge. However, these statues vary drastically by state. Does your state have protection? You can check this nifty chart from the Public Participation Project.
---
Around the Globe
---
A Message to the Washington Nationals: #FreeAustinTice
The National Press Club's Bill McCarren tweeted at the Washington Nationals, asking for them to allow Marc Tice to raise awareness for his son by throwing out the first pitch at a game this weekend. Tice is the father of kidnapped American journalist Austin Tice, who the family believes is alive and being held in Syria. Tice has been missing since August 2012.
"The United States government has assured us that Austin is still alive… and that this is a viable mission," Austin's mom Debra Tice said in a recent interview with Fox News. "So it's not just a mom and dad and wishful thinking. It's verifiable information."
The Nationals did not respond to McCarrren's tweet.
---
That's all for this week. Thanks for reading and I'll see you next Tuesday! Send tips and feedback to sgnover@gmail.com.