Playboy Reporter Barred from White House
And more press freedom news in this edition of Pressing.
I'm Scott Nover. Welcome back to Pressing, a newsletter about press freedom. If you haven't yet subscribed, you can do so here and receive this letter in your inbox every Tuesday morning.
This is the ninth issue of Pressing and we've got a lot of news from the U.S. and around the world. Please keep the feedback coming and send thoughts, suggestions, and tips my way at sgnover@gmail.com. Let's jump in.
The White House Threatens Reporter's Access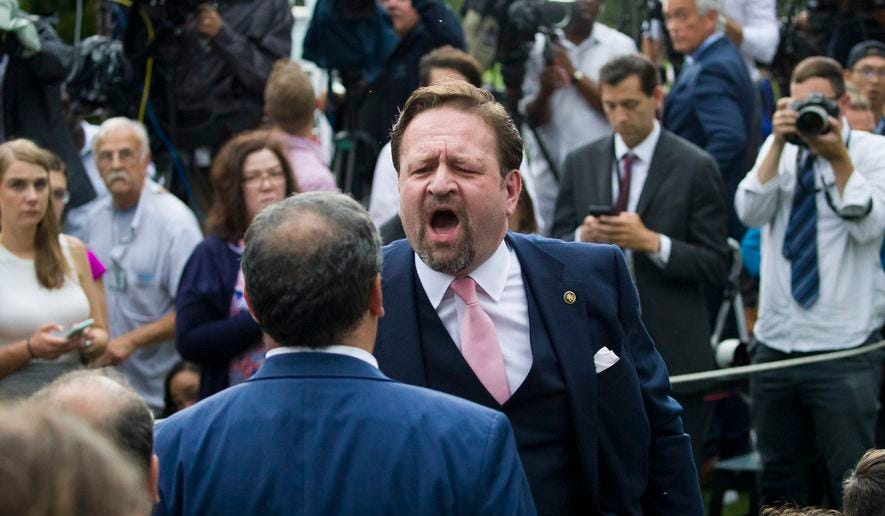 This is a rather long tick-tock of a complicated situation… so bear with me!
Brian Karem, White House correspondent for Playboy, is often seen as a grandstander in the White House briefing room. On occasion, he confronted former White House press secretary Sarah Sanders in the briefing room about policies he felt were egregious. But, now that he's been booted from the White House under the reign of a new press secretary, none of that really matters. We have a big First Amendment problem on our hands.
Here's what happened: On July 11, Karem was reporting from The White House's "Social Media Summit" when he got into a scuffle with former Trump aide and current radio personality Sebastian Gorka. Here's the full exchange of what transpired, as Karem recounted to Washington Post media critic Erik Wemple:
As Karem tells the Erik Wemple Blog, he had appealed to the president to stick around and answer some questions after his census remarks had concluded. Trump didn't answer the call. Karem, a correspondent for Playboy magazine, claims that some folks in the "middle row" of the assemblage made some snide remarks. "They said stuff like, 'He's already talked to the real media' and 'Don't be sad' and there were a couple of others," he recalls. As memorialized on video, Karem then says, "No, I'm just standing around. This is a group of people that are eager for demonic possession."

After Karem's "demonic" comment, Gorka shouts, "And you're a journalist, right?" Karem replies, "Come on over here and talk to me, brother. We can go outside and have a long conversation."

Across the green expanse of the Rose Garden, Gorka trudges. After he's established a short and manly distance from Karem, he screams, "You're a punk! You're not a journalist! You're a punk!"

His point made, Gorka marches off. Karem, however, shows that he's fine doing some stooping of his own, though not to Gorka's level. "Go home! Go home!" shouts Karem. "Hey, Gorka, get a job!" Someone yelled to Karem, "For the record, he'd kick your punk a--!"
By now, we figured, this was all in the past. But on Friday, Karem found out that his press pass was suspended for 30 days by new White House press secretary Stephanie Grisham. Karem told the Post that the White House's decision was an "anti-First Amendment move." He also retained the legal representation of the prominent First Amendment lawyer Ted Boutros.
You may remember Boutros — and basically this same scenario — from last fall when Sarah Sanders and then-communications director Bill Shine kicked CNN Chief White House Correspondent Jim Acosta out of the White House for asking follow-up questions at a presidential press conference. If you don't remember it, you can read my initial coverage for The Atlantic in which I outlined the contours of Sherrill v. Knight, a case that later became the central tenet of CNN's legal argument against the White House—and the grounds upon which federal judge Timothy Kelly issued a temporary restraining order reinstating Acosta's credentials. (The White House dropped the ban and CNN then dropped the lawsuit soon thereafter.)
In those next days, the White House issued "rules" for reporters, specifically about follow up questions. When I covered that announcement, George Washington University media law professor Will Youmans told me the rules were "so broad that routine antics could be used as the basis for recalling credentials… they're trying to rein [Acosta] and other correspondents in, while paving the road for future pass rescindment."
Those rules, however, have to do with follow-up questions… not quarreling with a former Trump aide at an event. The writers' advocacy group PEN America, sent me the following statement from CEO Suzanne Nossel over the weekend (disclaimer: PEN is also suing the president for censorship and retaliation against journalists):
Yet again, the Trump White House has been accused of retaliating against a journalist for coverage they dislike. The White House owes us an urgent explanation of why reporter Brian Karem's press pass was withdrawn. If it has anything to do with questions he has asked or conversations held on White House grounds, the suspension will add to the growing list of occasions in which this Administration has flouted its First Amendment obligations.
The White House Correspondents' Association and numerous other advocacy groups also signaled their support for Karem.
Boutros penned a letter to Grisham Monday saying that the administration's decision clearly violates Karem's First Amendment rights as well as the due process requirements outlined in the Sherrill decision.
Grisham's idea of due process involves a 30 day "preliminary decision" to suspend Karem's hard pass (a.k.a. his permanent credential) with one business day to appeal the decision (as Karem has since done). Boutros' pushed back on the timeline in his letter to Grisham:
Your invocation of the Rose Garden event weeks after it occurred and without any notice whatsoever that you were considering taking action against Mr. Karem is the opposite of due process, and is clearly a pretext for punishing Mr. Karem based on the viewpoint and the content of his reporting on President Trump.
I'm not a lawyer, but this is the legal gist as I understand it: If the government elects to set up a public forum like the White House press facility (which it certainly does not have to do), it cannot then permit some journalists access because their coverage is favorable while barring others because their coverage is unfavorable. Content-based government regulations of journalists violate their First Amendment rights.
That's all I'll say for now, but keep your eyes open for more on this.
---
Significant Dates and Digits:
AUG. 14th… marks seven years since freelance journalist Austin Tice disappeared in Syria. "Austin's ongoing detention is today's news," his parents, Marc and Debra Tice, wrote in an open letter this week. The family says they are sure he is alive.

SEPT. 17th… is the release date for NSA whistleblower Edward Snowden's forthcoming memoir Permanent Record, published by the Macmillan imprint Metropolitan Books.

8.7 MILLION… is the print circulation claimed by the newly announced mega-merger of Gatehouse and Gannett. The move, which will consolidate the two largest newspaper chains in the U.S., raises the alarm from critics of industry consolidation as well as those lamenting the influence of private equity in news. I'll leave it to Ken Doctor to explain the economics in his NiemanLab column.
---
If you're not already subscribed to Pressing, click here to receive it weekly:
---
What's New Worldwide:
Mauritanian blogger Mohamed ould Cheikh ould Mkhaitir was freed by authorities last Tuesday, Voice of America reported. Mkhaitir was previously sentenced to death for "blasphemous" comments.

In India, "journalism is in trouble," Raksha Kumar writes in Foreign Policy. She presents a detailed overview of the ways in which the Modi regime represses independent journalism. "The problem is systemic; financial pressure from the government and Modi's disregard for media freedoms are making matters worse." (h/t Aman Thakker for flagging).
Online Controversies
US Naval Academy professor Jeff Kosseff has a new book, The Twenty-Six Words that Created the Internet, about Section 230 of the Communications Decency Act. What does Section 230 do? "It's intended to protect 'interactive computer services' from being sued over what users post, effectively making it possible to run a social network, a site like Wikipedia, or a news comment section," The Verge wrote. "But in recent years, it's also become a bludgeon against tech companies that critics see as abusing their power through political bias or editorial slant." The Verge has an extensive Q&A with Kosseff.

The online forum 8chan is a bad place. It was the stomping ground for the Christchurch mosque shooter, the Poway Chabad shooter, and this weekend's El Paso Walmart shooter. There's been repeated private sector attempts to isolate the site, encouraged by the site's own founder (e.g. Google stopped allowing 8chan in its search results). Cybersecurity company Cloudfare stuck by the site, providing support until early Monday morning when it decided to take 8chan offline amid mounting pressure. (Read more in The New York Times.) Cloudfare's CEO, Matthew Prince, was torn about the decision, saying:

"It's dangerous for infrastructure companies to be making what are editorial decisions," he said. "The deeper you get into the technology stack, the harder it becomes to make those decisions."

The fact-checking website Snopes is at war with a Christian satire site, The Babylon Bee, which "lampoons progressive ideas, Democrats, Christians and President Trump," according to The New York Times.

In a recent fact-check of a Bee article, Snopes implied the publisher had crossed the line between satire and publishing misinformation with the intent to deceive. Snopes revised its original language, but folks at the Bee — and conservative commentators — are still accusing Snopes of partisan bias even after the fact-checker revised its language.

I asked PolitiFact misinformation reporter Daniel Funke for his thoughts. Late last night, he told me:

This feud has been going on in one way or another for about a year and a half now. I reported on it last spring, when Snopes rated a Babylon Bee article as false on Facebook, which decreased the article's reach. Snopes said that it fact-checks anything its readers ask about, while the Babylon Bee said it's clearly a satire site. It highlights a lot of the tension that exists between satire and misinformation — at the center of which is a question of taste and who's in on the joke.
New Library of Congress Report
A new report from the Library of Congress' Law Library analyzes freedom of expression in 13 foreign countries: Argentina, Brazil, Canada, China, France, Germany, Israel, Japan, the Netherlands, New Zealand, Sweden, Ukraine, and the United Kingdom.
The report "focuses on the limits of protection that may apply to the right to interrupt or affect in any other way public speech. The report also addresses the availability of mechanisms to control foreign broadcasters working on behalf of foreign governments." Read the full report here.
My Take: It's an interesting government report, but don't expect too much juicy commentary. That being said, the harshest language comes, rightly, in the sections on China and Ukraine, which, as the authors write, impose "broad restrictions" on freedom of speech. I also found the section on Israel to be a very comprehensive resource.
(h/t Amelia Strauss for flagging this item! Have a tip for the newsletter? Send it to me at sgnover@gmail.com)
---
That's all for this week. Thanks for reading and I'll see you next Tuesday! Send tips and feedback to sgnover@gmail.com.