Press Freedom Advocates Are Supporting Fox News
... against a strange legal claim saying cable channels don't have First Amendment rights. They do.
I'm Scott Nover. Welcome back to Pressing, a newsletter about press freedom. If you haven't yet subscribed, you can do so here and receive this letter in your inbox every Tuesday morning.
This is the 42nd issue of Pressing and it's great to have you with me. Please send me feedback, thoughts, suggestions, and tips at sgnover@gmail.com.
---
WASHLITE v. Fox News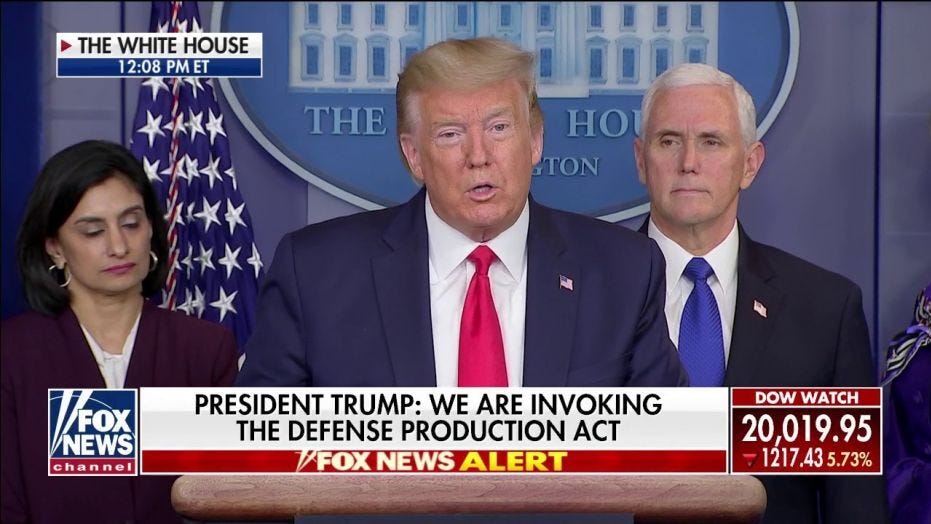 The Washington State nonprofit Washington League for Increased Transparency and Ethics (WASHLITE) is suing Fox News over its Covid-19 coverage, saying the conservative cable channel's coverage has violated Washington State consumer protection laws.
But, in response to Fox's recent motion to dismiss the case, WASHLITE submitted a brief which claims that cable news networks do not have First Amendment rights, a bizarre assertion that Gabe Rottman at the Reporters Commitee for Freedom of the Press broke down in a recent blog post:
At base, WASHLITE makes two legal errors. One, it relies on a dissent in a case where the majority expressly found First Amendment protections for cable programmers on a third-party cable system. Two, it misconstrues that dissent… WASHLITE has failed to even advance an argument as to why the same analysis should apply in the context of a state consumer protection lawsuit seeking to penalize the exercise of editorial discretion on a news channel.
WASHLITE alleges that cable content producers are not covered by First Amendment claims when they rely upon third-party cable operators to carry that content. Rottman says such claims would set a dangerous and far-reaching precedent. He writes:
Among other things, that logic would extend to newspapers who use third-party contractors to deliver the physical paper or rely on internet service providers to distribute digital content. It would extend to syndicated radio programs who sell content to third-party broadcasters. And it would apply to the broadcast networks. ABC, CBS, the CW, FOX, and NBC would only be protected when their programming is broadcast by owned-and-operated stations. PBS wouldn't be protected at all because it doesn't own its member stations.
The Reporters Committee and the NCTA — The Internet & Television Association submitted an amicus brief in support of Fox News.
Why It Matters: Did Fox News repeatedly say that the Covid-19 crisis was overblown? Yes. But does WASHLITE's argument make any legal sense? Absolutely not. And would such legal precedent erode American press freedom? You bet. Critique the hell out of Fox, but this argument is just completely unfounded. Fox simply does have First Amendment protections.
Read More:
---
If you would like to financially support this newsletter, you certainly may! I produce it independently every week for 300+ wonderful subscribers. Your support makes it possible for me to continue putting out these free newsletters every week. Hopefully, I'll be able to start up posts for paid subscribers again soon. Thank you!
---
ACLU v. Puerto Rico
The American Civil Liberties Union sued top officials in Puerto Rico in federal court over two laws they deem a threat to press freedom. One of the laws, passed in 2017, prohibits raising "false alarms" or "spreading rumors" during an emergency. The other, passed last month, makes it a crime to "transmit" fake news intended to cause panic. The ACLU said in a statement:
"Just because these laws are limited to speech the government considers false does not mean that only false speech will be deterred. The laws' broad sweep and vague language give people far too little guidance on what speech may constitute a crime, and government far too much discretion in deciding whom to prosecute."
The ACLU says that violators of these laws face between six months and three years, plus thousands of dollars in fees.
Why It Matters: Both of these provisions are similar to the "fake news" laws that we've seen around the world. When the government decides what's real news and what's fake, what's tempered and what's panic-inducing, journalists and individuals are at risk.
Read More:
---
What Else Is New?
---
New resources: The Knight Foundation's Mark Glaser put out a list of resources for local journalists struggling during Covid-19, including information on grants, online trainings, webinars and more. Check it out here.
---
Techlash
---
Thanks for reading Pressing today and always. Like what you read and want to support me? Consider a paid subscription here. I'll see you next Tuesday! Send tips and feedback to sgnover@gmail.com.