Trump Puts Journalists at Risk
And just about everyone else in his vicinity
I'm Scott Nover. Welcome back to Pressing, a newsletter about press freedom. If you haven't yet subscribed, you can do so here and receive this letter in your inbox every Tuesday morning.
This is the 54th issue of Pressing and it's great to have you with me. Please send me feedback, thoughts, suggestions, and tips at sgnover@gmail.com.
---
Trump's Infectious Behavior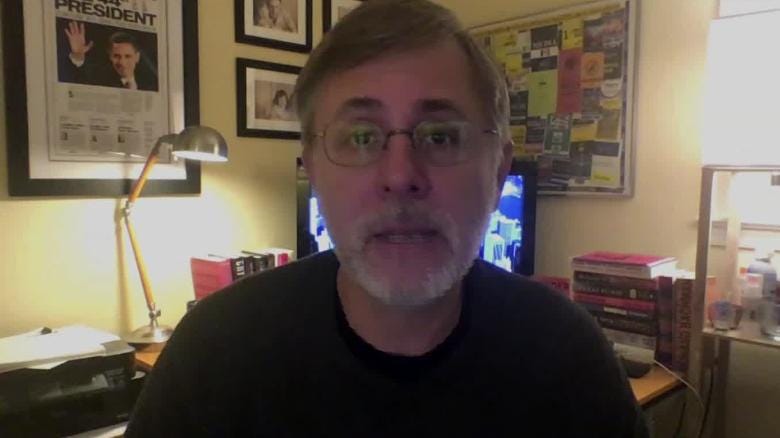 In this newsletter and in my reporting, I've documented the grave concerns that I, other journalists, and press freedom advocates have had about Donald Trump.
His presidency has been one long string of verbal attacks on journalists.
"Fake news" and "the enemy of the people" are almost trite broadsides at this point—the final months of his first term in office.
But Trump hasn't yet killed a journalist. He might do so this week.
Trump once said he could "stand in the middle of Fifth Avenue and shoot somebody" and not lose voters. That comment was laughed off as 'Trump being Trump,' but his recent behavior could leave more than one person dead.
"You know when Trump did the whole Fifth Avenue hypothetical he only kills ONE person in it" - writer Drew Margary
Now, Trump's flagrant disregard for standard Covid-19 health guidelines—guidelines developed by his own administration!—has put an exceptional number of human beings at risk for an illness that can be deadly—especially for the elderly and those with certain pre-existing conditions.
How do we enumerate the errors of judgment?
Of course, Trump has long created discord and confusion about the Covid-19 pandemic, how it is spread and how it is treated.
But I don't need to recount the tales of the hydroxychloroquine or disinfectants or ultraviolet light. You all remember that—even if it feels like it was ages ago.
And I don't need to tell you about how, inside the White House complex, Trump has spurned masks, which his own administration says prevents the spread of the virus. After all, that's what likely led to a super-spreader event at the nomination ceremony for Judge Amy Coney Barrett, who Trump seeks to put on the Supreme Court.
High-profile political figures including the president, First Lady Melania Trump, press secretary Kayleigh McEnany, advisor Hope Hicks, former advisor Kellyanne Conway, RNC chair Ronna McDaniel, Trump campaign manager Bill Stepien, former New Jersey Gov. Chris Christie, and three Republican U.S. Senators all contracted the coronavirus this week. (Sen. Ron Johnson did not attend the Rose Garden event, but all the others did.) CNN has a full list of who is and isn't positive: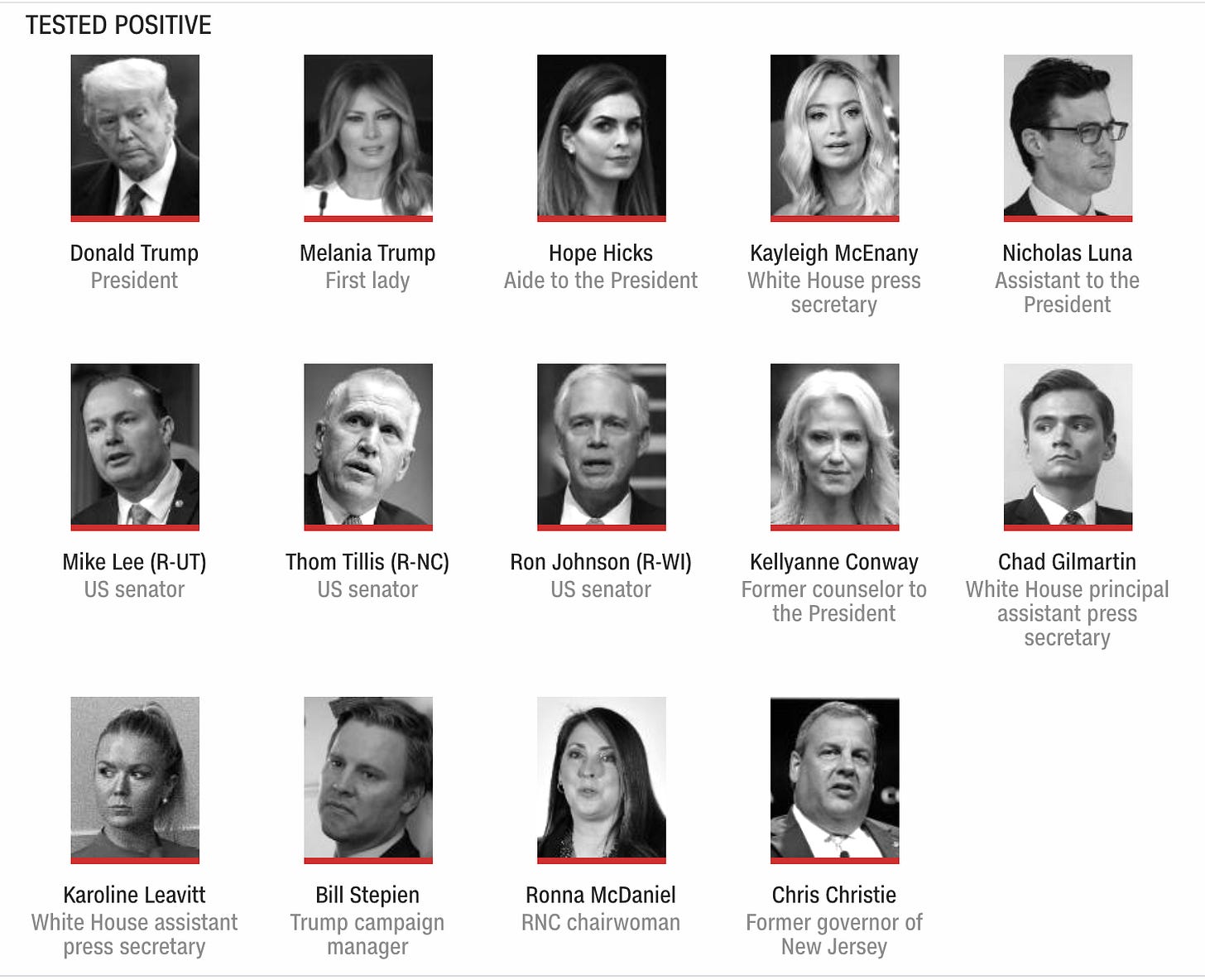 That Donald Trump's inner circle has contracted a deadly virus is a tragedy, akin to Shakespeare's greatest works. But, even Shakespeare's tragic characters seem, at times, more nuanced and self-aware.
While questions swirl about presidential succession, government transparency and the state of our polity, I am most concerned about the people who aren't household names.
As I tweeted yesterday, it's important to remember that the White House is not just the president's home. What happens inside is not just his business. The White House is a bustling office building with political, civilian and military staff, Secret Service, volunteer interns, and the White House press corps.
When the president acts, his actions affect everyone there.
His no-mask policy put staff in danger. His trip to Bedminster put his own donors, his staff and everyone there in danger. His tour-de-Walter Reed-parking lot needlessly put Secret Service in danger. His premature return to the White House put staff in danger.
And when he took off his mask when he arrived home, Trump—likely still contagious—put staff in danger.
When the president walks into the White House without a mask, he isn't just going home.
At least three journalists, including The New York Times' Michael D. Shear (pictured above), recently contracted Covid-19 after attending the Rose Garden event. Shear confirmed that the White House didn't even reach out to him after his diagnosis, as they have refused to do contract tracing.
Trump, who is still suffering from the effects of the virus, had one message for the American people on Monday. "Don't be afraid of Covid," he tweeted.
If this were coming from overseas, we would simply call this behavior reckless and even murderous. One reason that we, as a political press, have struggled to cover the Trump presidency, I believe, is because we don't have the vocabulary needed to address the sad reality that our president simply does not seem to value the lives of American citizens. Or even his supporters, oddly.
This is a press freedom crisis within our own country. Political reporters should not be putting their lives at risk to cover the American president. Not at home. Not in the White House. But they are.
MORE ON THIS:
---
If you would like to donate to keep Pressing going, you may do so through a "paid subscription" below. Pressing is a free newsletter, but any contributions allow me to keep producing this newsletter for everyone each week.
---
A New Documentary
You've read my writing about Jamal Khashoggi, the Washington Post writer who was assassinated by the Saudi government in 2018.
There's a new documentary about his life and death called "Kingdom of Silence," directed by Richard Rowley and produced by Alex Gibney and Lawrence Wright, among others. This month, Showtime, which is distributing the doc, is making it free to view on its YouTube channel.
I have yet to watch, but definitely atop my list. My information here:
MORE ON THIS:
---
Enjoy what you're reading? You can share it here:
---
In Other News:
---
Thanks for reading Pressing today and always. Like what you read and want to support me? Consider donating via a paid subscription here. I'll see you next Tuesday! Send tips and feedback to sgnover@gmail.com.