On Austin Tice: It's Trump vs. Pompeo
Austin's mother Debra is bringing pressure
I'm Scott Nover. Welcome back to Pressing, a newsletter about press freedom. If you haven't yet subscribed, you can do so here and receive this letter in your inbox every Tuesday morning.
This is the 57th issue of Pressing and it's great to have you with me. Please send me feedback, thoughts, suggestions, and tips at sgnover@gmail.com.
---
Trump vs. Pompeo on Austin Tice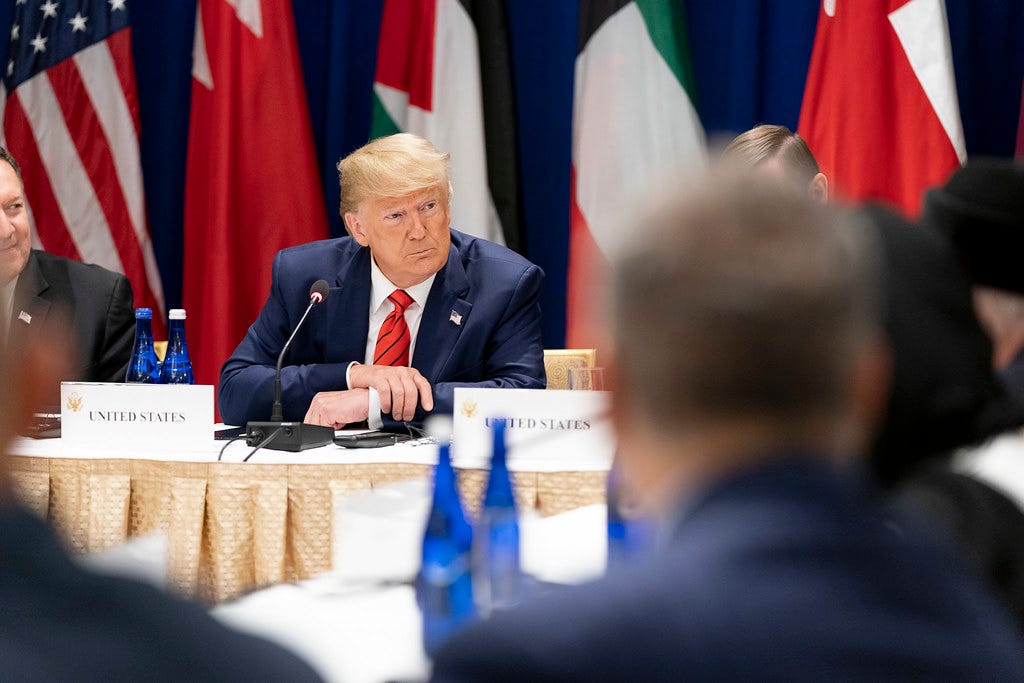 Last week, I wrote about Austin Tice, the freelance journalist who has been missing in Syria for more than eight years. A Wall Street Journal report indicated the Trump White House was committed to bringing him home—a positive development after many years of silence between the U.S. and Syrian governments.
Despite my critical writing about President Donald Trump—on just about all matters relating to the press and press freedom—I wrote that I am rooting for his success in bringing Austin home.
I also referenced a piece by Jacob Tice, Austin's brother, that ran in a series of newspapers. Jacob and his family have spent many breaths praising Trump's supposed commitment to the cause. Jacob wrote:
No president in our history has been more personally committed than President Donald Trump to bringing home American citizens held abroad. Our president has made it clear, time and again: The return of Americans is a deeply personal priority for him. It was from him, this March, that America first heard Austin's name said aloud by a president. My heart leapt that day. My family appreciates the powerful effort this administration is exerting to bring him home. We have felt the progress, centimeter by excruciating centimeter.
This week, Austin's mother, Debra Tice, took a different approach, but one that still appealed to Trump personally.
"Our family was elated to read in the Wall Street Journal that President Trump recently sent Kash Patel, a top White House aide, to Damascus, Syria, to begin the first real dialogue with the Syrian government in almost a decade…We are thrilled the President took this step. President Trump has had historic success in bringing home U.S. hostages. He is an advocate and an ally to families like ours."
But her praise stopped at the gates of the White House: her ire toward the State Department was unrelenting.
"Unfortunately for Austin, Secretary of State Mike Pompeo is undermining the President's crucial outreach, refusing any form of direct diplomatic engagement with the Syrian government," she wrote. "During his press briefing on October 21st, he stood before the State Department press corps and said, in essence, there is nothing he is willing to do to bring my son home. This is in stark contrast to President Trump's statement, 'We stand with the Tice family and will not rest until we bring Austin home.'" 
USA Today: Bring my journalist brother home by Thanksgiving (Jacob Tice)

National Press Club: Bring Austin Tice Home for Thanksgiving (Debra Tice)
It's an odd dynamic: A family pushing an American president while criticizing his Secretary of State.
That being said, it could work with this president, whose actions are often made in isolation from his cabinet officials.
But, The Washington Post's Liz Sly and Suzan Haidamou report that, unfortunately, Trump's efforts haven't produced any results yet. Their sources indicate that the Syrian government hasn't even acknowledged having the talks and won't consider releasing Tice and other hostages unless the U.S. lifts sanctions and removes troops from the troubled country.
U.S. and Syria don't have formal relations, which makes the effort to secure Austin's release even trickier. Instead, they have relied upon Abbas Ibrahim, Lebanon's top security official, as a go-between.
And despite Trump's efforts, Pompeo has said they will not change U.S. foreign policy to negotiate for Austin's release. "To link the departure of U.S. troops from Syria to the otherwise noble effort to release hostages is to mix strategic and humanitarian issues," Pompeo said in a recent news conference.
Likely, the issue will not resolve before the election next week. It's crucial, however, that the next president take seriously the role of the United States securing Austin's release. Whatever that takes.
What will it take? Do you think Tice is actually alive and well in Syria? Certainly smarter foreign policy minds than me understand the nuance in this case. I would love to hear from you. Reply to this email and leave me some thoughts to consider.
---
If you would like to donate to keep Pressing going, you may do so through a "paid subscription" below. Pressing is a free newsletter, but any contributions allow me to keep producing this newsletter for everyone each week.
---
Khashoggi's Fiancé Sues MbS
Hatice Cengiz, the fiancé of Jamal Khashoggi, has sued Saudi Crown Prince Mohammed bin Salman in U.S. federal court, alleging that he ordered the Jamal's assassination during a 2018 visit to the Saudi Embassy in Istanbul. (The CIA has independently concluded that MbS was behind the killing.)
The lawsuit was brought with the U.S. nonprofit Democracy for the Arab World Now against MbS and 20 defendants last week. While actual enforcement in this case is unlikely, if Cengiz is successful, the suit does one thing for sure: keeps public pressure on the administration—or the next one—to seek justice for Jamal.
---
What Else Is New:
---
Enjoy what you're reading? You can share it here!
---
The Opinion Pages:
Student Media
:
The Press Freedom Space
:
The Twittersphere
---
Thanks for reading Pressing today and always. Like what you read and want to support me? Consider donating via a paid subscription here. I'll see you next Tuesday! Send tips and feedback to sgnover@gmail.com.